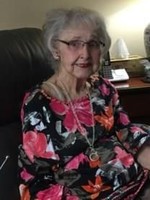 Mary Frances Speed, 87, of Montgomery, passed away on Wednesday, November 1, 2017. She was preceded in death by her parents, Claude Elmer Williams and Mary Evelyn Williams; her husband James Preston Speed, Jr.; and her two sisters, Claudette Smith and Sandra Chupik.
Mary Frances Speed is survived by two children; Donna (Keith) Ross and Butch (Tonya) Speed, as well as grandchildren; Emily (William) Crow, Jessica (Justin) Romine, Anne Preston (Garrett) Bullock, Frances Speed and fiance' Alex Dettmar and numerous nieces and nephews.
Visitation will be held on Monday, November 6, 2017, at 12:00 noon at Leak Memory Chapel with a celebration of life service to follow at 1:00 p.m. Burial will follow the service in Greenwood Cemetery.
The Speed Family would like to extend special thanks to the Belmont Assisted Living for their help and kindness during her residency.
In lieu of flowers, the family requests donations to:

First Baptist Church Caring Center

Eastern Hills Baptist Church WMU

in honor of Mrs. Speed.
Published in the Montgomery Advertiser on November 5, 2017.