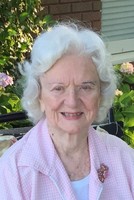 Mary Sue Johnston Moore, 90, passed away on Sunday, April 8, 2018, at her home in Montgomery, Alabama.
Living most of her life in Montgomery, Sue entered the workforce as a secretary for Insurance and Bonds, Inc. Through hard work and initiative, she became the owner and President. While the owner, she met her future husband Leon Moore, who preceded her in death.
Also preceding her death was her beloved mother Kate Sellers, father James Johnston and sisters Pat Lackey and La Rue Sullivan. She is survived by sons Ken Williams and wife Lori; Scott Moore, wife Brandy, parents of Sue's grandson Brandon; and Keith Moore; Grandsons Hurst Williams and wife Janelle; Alex Williams and wife Correen, parents of Sue's beloved Great granddaughter Emily; nephew Ron Bridges and wife Eunice; niece Druann Bentley and husband Jim.
Sue's greatest legacy was her achievement as a leading Montgomery businesswoman who did well for others and taught others to do the same while raising three sons and a nephew. She positively impacted the lives of an extended family with her humor and love of life, uniting family and friends alike. All who knew her endeavor to follow her example.
A graveside service will be held at 3:00 p.m. on Wednesday, April 11, 2018, at Alabama Heritage Cemetery. In lieu of flowers, memorials may be made to Baptist Hospice.
To offer online condolences please visit www.alabamaheritagefh.com
Published in the Montgomery Advertiser on Apr. 10, 2018.