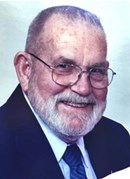 James Doherty, Jr. age 89 passed away on September 27, 2017, in Huntington Beach, California. Jim was born in Selma, Alabama on August 25, 1928. Jim was preceded in death by his wife of 60 years, Barbara DeLauris "Dee".
He attended Sidney Lanier High School where he graduated in 1946. Jim enlisted in the Navy after high school where he proudly served in the Seabee Naval Construction Force. Serving for 21 years, he retired from service as Senior Chief in Quonset Point, Rhode Island. While stationed in Southern California Jim met the love of his life, Dee. They were married in Port Hueneme in 1953 and stationed in numerous Ports in both the U.S. and Pacific Islands.
After Jim retired from the U.S. Navy, Dee and Jim chose Huntington Beach, CA as their home. He began his second career working for the City of Seal Beach as an Engineering Aide. Retiring after 22 years with the City, Jim and Dee began to travel around the country. Active members of Eastern Stars for over 50 years, Jim served as Worthy Patron in 1980 with his wife.
He is survived by his daughters, Kathryn Cosby Bradley (husband Bill) of Hoover, Alabama and Karen Cosby of Loon Lake, Washington; granddaughters Kristin Allen, Jennifer Evington, Amanda Bradley and Savanah Bradley: great-grandsons, Hunter, Grady, Cash, Knox and Carson, and great-granddaughters Emma and Alice.
Visitation for family and friends will be Tuesday, October 3rd from 8:30am - 9:00am at Forest Lawn Memorial, 4471 Lincoln Ave. Cypress. Funeral service immediately after in Forest Lawn Chapel of Our Fathers at 9:00am. He will be laid to rest at Riverside National Cemetery, 22495 Van Buren Riverside, CA.
Published in Orange County Register on Oct. 1, 2017