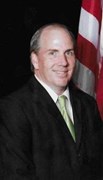 James (Jay) Timothy Stenger Jr. was born in Little Rock, Arkansas and was a resident of Montgomery, Alabama. He attended Sidney Lanier High School in Montgomery as a part of the Lanier Academic Magnet Program. He graduated from Auburn University at Montgomery with a Bachelor's degree in Accounting. Jay was Vice President of Commercial Lending at Regions Bank in Montgomery.
Mr. Stenger is survived by his wife, Sandra Stenger and his children, Kaylee (14) and Lindsay (9). He is also survived by his mother and step-father, Pat and Mike Sharpe, mother-in-law and father-in-law Jeannie and Stanley Wilson, sister and brother-in-law Michelle Stenger and Steven Scasny, sister-in-law Stephanie Wilson and uncle and aunt Wayne and Cathy Hoyle. Most importantly, he is survived by all the memories of those who met him. Quick and witty, Jay was someone you instantly felt a connection with. His easy-going, friendly manner made you feel at ease. Whether on the golf course or with his daughters, he always made friends and had a good time. So in reality, he is survived by anyone who met him and had a chance to know him.
The Celebration of Life will be held at First Baptist Church in Montgomery in the main sanctuary at 4 pm on Wednesday, April 18, 2018.
Published in the Montgomery Advertiser on Apr. 18, 2018