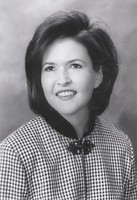 Dr. Amy Bennett Bellows, age 42, of Sandy Springs, Georgia, passed away on Saturday November 30, 2013 after sudden and unexpected heart complications.Amy was a woman of deep faith and a beloved wife, mother, and daughter. She touched the lives of many people and her absence will be deeply felt.
Amy was raised in Montgomery, Alabama and attended the University of Alabama where she was Phi Beta Kappa and graduated Summa Cum Laude with a degree in Chemistry in 1994. Amy subsequently received a PhD in Human Genetics from the University of Alabama at Birmingham in 2000.
Amy's proudest achievement, however, was serving as a mother to her two sons, Jack and Will. There was nothing more important to Amy than her family and she took immense joy in helping her children reach their full potential. She was a tireless volunteer at her church and her sons' school—St. Jude the Apostle Catholic School, where she was Spiritual Life Director for her children's classes, room mother, book fair volunteer, teacher appreciation coordinator, and fundraising volunteer.
Amy is survived by her husband of 15 years, Dr. Brent R. Bellows and her two sons, Jack and Will. She is also survived by her parents, Dr. John and Beverly Bennett; her grandmother, Reatha Calhoun; her brother and sister-in-law, Dr. Matthew and Karen Bennett, and their children, Cal and Brady.
Amy was preceded in death by her grandparents, Milton C. Calhoun, Dr. John L and Louise.Bennett.
Visitation with the family will be from 5:30 to 7:30 PM on December 4, 2013 at the Sandy Springs Chapel, 136 Mt. Vernon Hwy., Sandy Springs, GA. Funeral services will be at 11 AM on Thursday, December 5, 2013 at St. Jude Catholic Church, 7171 Glenridge Drive Atlanta, GA 30328.
Amy was a voracious reader, and instilled her love of books in her children. Jack and Will's school has set up a Book Award and Scholarship in Amy's memory. Donations may be made to St. Jude the Apostle Catholic School located at 7171 Glenridge Dr. NE, Atlanta, GA 30328, in support of this award.
Published in the Montgomery Advertiser on Dec. 4, 2013