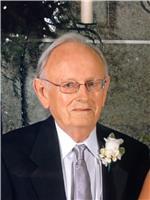 John William Burroughs, 86, of Conway, Ark., passed away Monday, March 24, 2014. He was born March 30, 1927, in Montgomery, Ala., to the late George Burden Burroughs and Velma Richmond Burroughs. John grew up in the "West End" of Montgomery. He was a graduate of Sidney Lanier High School.
At the age of 17, John enlisted in the Navy, and served two weeks shy of two years. He then attended Auburn University, and graduated with a degree in architecture. Because he had not completed two years of military service, Uncle Sam requested his presence in the Army. John taught blue print reading in Alexandria, Virginia, during his time in the Army.
John married the love of his life, Bobbie Odom, on June 10, 1953. They were blessed to spend 57 years together. He was devoted to his wife, his children, his grandchildren and his great granddaughter and demonstrated his love for them every day of his life.
In 1965, John opened his own architecture practice in Memphis, Tenn. He designed many churches of Christ and car dealerships in the Memphis and Midsouth areas. He also designed buildings at Memphis Harding Academy, Harding Academy in Searcy, Harding University and Central Arkansas Christian School.
John was quite artistic and was an especially talented wood carver. He also loved to trout fish on the Little Red River. John was very well versed in Dixieland jazz - if the music wasn't jazz, he didn't see the point.
John was a longtime member and deacon at White Station Church of Christ in Memphis, and after his move to Conway, was a member of Robinson and Center Church of Christ, then University Church of Christ.
John was preceded in death by his parents, his brother, Howard Burroughs, and his beloved wife Bobbie. He is survived by his son, Jeff Burroughs, and wife, JaNella, of Maumelle; daughter, Jill Burroughs of Oklahoma City; grandchildren, Nathan Burroughs and wife, Amanda, Emily Burroughs and Katherine Burroughs; and great granddaughter, Reagan Burroughs.
Memorials in John's honor may be made to Harding Graduate School of Theology, 1000 Cherry Road, Memphis, Tennessee 38117, or Children's Home, Inc., 5515 Walcott Road, Paragould, Arkansas, 72450.
A celebration of John's life will be held at 3 p.m., Saturday, March 29, at the University Church of Christ in Conway.
Published in The Log Cabin Democrat from Mar. 27 to Apr. 3, 2014