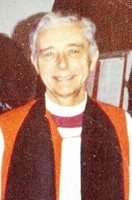 The Rt. Rev. Milton LeGrand Wood III, (Mit, Daddy, Papa, Great Papa to all of us), died peacefully in his home this past Thursday. A good man, who we all loved, he is survived by his wife of 66 years, the former Ann Linwood Scott, of Montgomery, Ala, and by their 4 children, 13 grandchildren, and 11 great-grandchildren.

Milton did many great things in his life, but what we will remember about him most were his sense of humor, his love of family, and the small moments we all shared with him. He will be truly missed by his family, his friends, and everyone who had the opportunity to know him.

As the family patriarch, he truly set an example of love, graciousness, and gentility. With Ann as a loving and caring partner, he raised an outstanding family. A true southern gentleman, he always had a kind word and a smile for everyone.

Born in Selma, Ala, on August 21, 1922, he grew up in Montgomery, Ala, as the only son of Milton Legrand Wood Jr. and Roberta Hawkins Wood. After graduating from Sidney Lanier High School in 1940, he attended the University of the South in Sewanee, Tenn, earning both a B.A. and M.Div. During this time he was also in the US Navy College V-7 program.

After his ordination into the Episcopal Church in 1946, he was named rector of St Paul's Church, Mobile, Ala, and director of Wilmer Hall Children's Home also in Mobile. During his six years in Mobile, he founded St Paul's Episcopal School. Started as one kindergarten classroom, the school has grown into one of Alabama's finest Christian schools.

In 1952 he became rector of All Saint's Church in Atlanta, Ga, a position he held until 1960. In 1957 when the governor of Georgia and the the State Legislature threatened to close down all public schools instead of integrating them, Milton was part of the steering committee that authored a document which became known as the Minister's Manisfesto. Ultimately the document was signed by over 300 clergy in the Atlanta area and was instrumental in keeping the schools open.

For two years in the early 1960's he worked in Macon, Ga as archdeacon of the diocese and director of Appleton Church Home. After returning to Atlanta in 1963 he was canon to the ordinary for the diocese until he was elected the first Suffragan Bishop of Atlanta in 1967.

In 1974 when Milton was named assistant to Presiding Bishop John Allin, he and Ann moved to Greenwich, Conn. For the next 10 years he worked as the Executive for Administration on the staff of the Executive Council of the Episcopal Church in New York before retiring and moving back to Alabama and building a home in Josephine on Perdido Bay.

For the past 30 years their home has been known as Camp Greenwitch by his many children, grandchildren, and great grandchildren.

In addition to his wife, Ann, Milton is survived by his four children: Leigh Pate (Charles) of Winston-Salem, NC, Ann Benedict (Barry) of Elizabeth City, NC, Mit Wood (Linda) of East Cobb, Ga, and Roberta Conroy (Jim) of Westport, CT; his thirteen grandchildren: Sarah Benedict, Scottie Pate, Elizabeth Foley (Paul), Becky Clifford (Rick), Tyler Wood (Becca), Virginia Pate, Carter Wood (Jannell), Tom Benedict (Eden), Ashley Tiegs (Jake), Jack Conroy, Chris Conroy, Peter Conroy, and Will Conroy; and his eleven great grandchildren: Montie, Brandon, Sadie, Emi Grace, Ty, Grace, Sylas, Clare, Mary, Priscilla, and Elie.

The family would like to thank long time housekeeper and family friend, Sylvia Arrington of Lillian, AL, for her love and support.

In lieu of flowers, please send donations to Wilmer Hall Children's Home, St John's Episcopal Church in Montgomery, or to a charity of your choice . Funeral services will be held at St John's Episcopal Church in Montgomery at 2:00 on Sunday, July 19, 2015, with committal at Greenwood Cemetery on Monday, July 20, 2015, at 1:00. Arrangements are being handled by www.southernmemorialfuneral.com.

St John's Episcopal Church
113 Madison Ave
Montgomery, AL 36104

Published in the MontgomeryAdvertiser.com from July 18 to July 19, 2015.