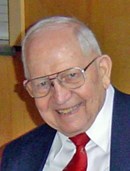 A member of America's Greatest Generation, Samuel Lee Patton died October 14, 2017, in Birmingham, Alabama, following injuries suffered in a fall. He was 95 at the time of his death, having been born February 18, 1922, in Montgomery, Alabama, to James William Patton and Gertrude Berry Patton.
Sam graduated from Sidney Lanier High School in Montgomery and enrolled at Auburn University (then Alabama Polytechnic Institute) in 1941, where he was a member of the Sigma Alpha Epsilon fraternity.
After the bombing of Pearl Harbor, he was one of many Auburn students who gathered in the quad and vowed to leave school to serve their country. He enlisted in the Army Air Corps on his 21st birthday and trained as a fighter pilot in the P-47 Thunderbolt aircraft, attaining officer status as a 2nd Lieutenant. He married Margaret Lewis Hines of Richmond, Virginia, on July 15, 1945, while stationed in Richmond and deployed immediately to California for service in the Pacific Theater. Upon his honorable discharge, he returned to Auburn to complete his degree in mechanical engineering, bringing with him his bride and infant daughter.
After graduation in 1946 he was employed with Calumet & Hecla to open their new copper tubing plant on the Tennessee River in Decatur, Alabama. Following a year's training in Detroit, Michigan, Sam worked for the company's Wolverine Tube Division in Decatur from its opening in 1947 until his retirement in 1986, rising to become Vice President of Quality Control.
In Decatur Sam was a member of St. John's Episcopal Church, where he served on the vestry and sang in the choir. He and Margaret also attended the Kingdom Hall of Jehovah's Witnesses and First Bible Church. His father had been President of the Montgomery Lions Club, and following in his father's footsteps, Sam was President of the Decatur Lions Club. He was a founder, Chairman of the Board, and a Board member for many years of the Wolverine Employees Credit Union.
Sam and Margaret moved to Okmulgee, Oklahoma, in 2002 to live with their son Sam, Jr., and his family. Three years later they moved to Birmingham, Alabama, where they lived at the historic Greenbriar at the Altamont on Highland Avenue. Sam remained there following Margaret's death in 2008 and enjoyed many activities, including the handbell choir. He was a delegate at the Silver Haired Legislature in Montgomery and a member of St. Andrew's Episcopal Church, where he served as an usher.
Sam is predeceased by his parents and five siblings, Jean Patton, James William Patton, Jr., George Berry Patton, Frances Patton (Mrs. James) Oakley, and Arthur Brevard Patton. He is survived by a daughter, Martha Jane Patton, of Birmingham, Alabama, two sons, Stephen McMath (and Elaine) Patton of Ketchikan, Alaska, and Samuel Lee (and Panda) Patton, Jr., of Tulsa, Oklahoma, sisters-in-law, Ruth Patton of Apopka, Florida, and Patricia Patton Kenan of Winston-Salem, North Carolina, a brother-in-law, James Oakley of Lake Charles, Louisiana, seven grandchildren, four great-grandchildren, and a number of nieces and nephews. He is also survived by his best friend and dearest companion, Elizabeth Brickell.
The family wishes to express gratitude to Dr. Andrew Duxbury, Sam's personal physician, and the doctors, nurses, and staff of UAB Hospital and Palliative Care Unit for their compassionate care. They are also grateful to the Greenbriar staff for many years of happy associations, and to his ExpectCare sitters. The family will long remember with great affection their gentle patriarch who loved the Lord. He was a faithful family man whose cheerful demeanor was inspiring and worthy of imitation.
A funeral service will be held at St. Andrew's Episcopal Church, 1024 12th St. South, on Saturday, October 28, 2017, at 11:00 a.m., with interment at a later date at the Alabama Veterans Cemetery in Montevallo.
In lieu of flowers, contributions may be made to:
St. Andrew's Rector's Discretionary Fund
The Wounded Warrior Project
Auburn University College of Engineering
Published in the Montgomery Advertiser on Oct. 22, 2017.