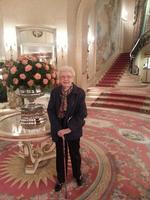 Emma Jean Athey Seabrooks passed from this life on January 17, 2019, at the age of 96, in Baltimore, Maryland. Beloved wife of the late Dr. Richard H. Seabrooks, and devoted friend of the late Charles E. Tracey. Preceding her in death, her mother, Addelle Ivey Athey, and father, William Sanford Athey, her sister, Louise Athey Fulkerson, and her brothers, George Ivey Athey, James Wright Athey, and Cullen Lamar ('Bill') Athey.
Born in Lapine, Alabama, she spent her childhood in Ramer, Grady, and Luverne, with the family settling in Montgomery, at 209 Church Street. She is a graduate from the Class of 1940 at Sidney Lanier High School in Montgomery, Alabama.
Emma had a zest for living and remained active throughout her life, playing bridge, reading, and traveling. She had many stamps in her passport. The last ones being London and Paris from a two-week tour she took when she was 91. She was a supporter of the Baltimore Opera and animal rights groups.
She is survived by her loving nieces and nephews: Dr. Laura ('Dolly') Fulkerson Hodges (League City, TX), Dr. George ('Bob') Ivey Athey, Jr. (Topeka, KS), Anne Athey Vosseller (Jacksonville, FL), Jamie Athey Sullivan (Mobile, AL), and Dr. Cullen Lamar Athey, Jr. (Newburgh, IN), and a host of great-nieces and nephews.
A graveside service will be held on Thursday, January 24, 2019, at 11:00 a.m. at Pine Crest Funeral Home, 1939 Dauphin Island Parkway, Mobile, Alabama.