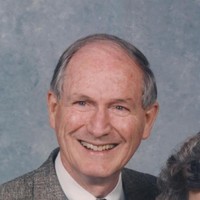 April 10, 1926 - March 10, 2017
James Gage Wright, Jr M.D. of Sylacauga, Alabama, died peacefully at home on March 10, 2017.
Survivors include his wife of 63 years Villa Bentley Wright, son James G. Wright III, daughter Amy Wright Jason (David) and grandchildren Gage Wright, Kathryn Jason, Greg Jason and John Jason.
Jim was a physician for 50 years, practicing Internal Medicine and Rheumatology. He was a Staff Physician at Craddock Memorial Clinic in Sylacauga from 1957-1987 before serving as Staff Physician at the VA Hospital in Montgomery, Alabama, for 16 years.
Jim will be remembered as a kind and loving man to his family, his Church, his patients, and to all who knew him. His compassion, patience, kindness and his smile brought joy and love to many. He joyfully shared his love and knowledge of the Bible with many people through his words and deeds.
Dr. Wright graduated from Sidney Lanier High School in 1944. Upon graduation he joined the Marine Corp and served in the Pacific theater, fighting in the battle for Iwo Jima. He witnessed the raising of the American Flag on Mt. Suribachi and received the Purple Heart for wounds sustained in the battle.
He graduated from Huntingdon College in 1949 and the Medical College of Alabama in 1953. His internship and residency were at University Hospital where he had an NIH Fellowship in Rheumatology.
Dr. Wright was an active member of First United Methodist Church in Sylacauga, AL since 1957. He faithfully served on the Board of Trustees, Board of Stewards and the Hope Sunday School Class where he loved to teach God's word. He especially enjoyed the opportunity to share his faith in Kairos, a prison outreach ministry.
Dr. Wright was also active in the Kiwanis Club, serving as President in 1968 and the Marine Corp League in Montgomery, Alabama.
Visitation is from 1:00 to 2:30 on Wednesday, March 15th at First United Methodist, Sylacauga with the funeral service at 2:30 PM. Curtis and Son North Chapel will direct the services.
Published in The Birmingham News on Mar. 15, 2017.