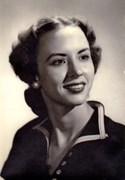 Martha Jeanne Sharp Waller died peacefully in her sleep on July 28, 2017, at her home in Montgomery, Alabama. She was born in Knoxville, Tennessee in 1927, to Katie Hill Sharp and Mitchell Raymond Sharpe, Sr. She is predeceased by her parents; her husband; and her brother, Mitchell R. Sharpe, Jr.
Martha is a 1944 graduate of Sidney Lanier High School in Montgomery. She worked for Yarbrough Realty in Montgomery and married Capt. John W. Waller, USAF, in 1951. They lived in Colorado, Louisiana, South Carolina, California, Arizona, and England with John's military assignments and settled in Raleigh, following his retirement from the Air Force.
Martha worked for attorneys George and Jean Holmes and McCarthy and Duffy CPA firm in Memphis, TN. In 1993 she moved to Rohnert Park, CA, where she was active in Westview Christian Church, Canine Companions for Independence, Autumn Hills HOA and the Rohnert Park Senior Center. She returned to Montgomery in 2015.
She is survived by her children, Gail Waller (Tom Cagle) of Montgomery; Kay Waller of Fairfax, CA, June Waller Klonizchii (Steve) of Cloverdale, CA, and Wade Albert Waller (Amanda) of Rohnert Park, Calif; grandchildren, Kathryn W. Cagle (David Bikman) of Portland, OR, Lauren E. Cagle of Lexington, KY, Finn S. Boldrick of Petaluma, CA, and Nicholas A. Waller and Devon Howell of Rohnert Park, CA; beloved nieces Rebecca S. Johnson (Spence) and Rachel R. Sharpe; nephew David M. Sharpe (Cathy); great-niece, Sarah K. Zingales (Anthony); great-nephew, Christopher T. Johnson; cousins Hubert W. Thaggard, Jr., (Phyllis) of Garner, NC, Daniel R. Tompkins (Margie) of Roswell, GA, Cathy T. Stevens of Suwanee, GA, and Janey S. Bassett of Cookeville, TN; numerous nieces and nephews; and special canine friends Dobby and Minnie.
Martha will be buried with John at Memphis National Cemetery in a family ceremony at a later date.
In lieu of flowers, the family suggests donations to Canine Companions for Independence.