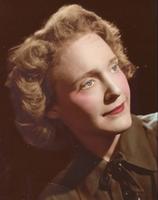 On Friday, June 11th, Elinor Outlaw Fountain peacefully passed away at the age of 95 years. How her family and many friends shall miss her smile, generosity, unfailing optimism, and resilience! Many of her friends were able to celebrate her 95th birthday with her during her last week.
Elinor was born on June 6, 1926, in Montgomery, Alabama to Marion Richard and Lila Eron Peel Outlaw. Following her mother's untimely death in 1931, her Peel family members joined in helping her father care for his young daughter.
Elinor graduated from Lanier High School in 1944 and the following week began working at Maxwell Air Force Base, Department of Defense. One of her favorite Montgomery memories was VJ Day in 1945 when she joined the conga line that snaked from the state Capitol to the fountain at the foot of Dexter Avenue.
Following WWII, Elinor met her future husband, John Mason Fountain, at Maxwell Air Force Base. John asked a mutual friend for an introduction to the red-haired, blue-eyed young woman with the shapely figure. They quickly fell in love and were married in 1950. In 1953, the couple moved to Mobile and then Theodore with their daughter, Shara. A second daughter, Karen, was born in 1956. Both Elinor and John worked at Brookley Air Force Base, and upon the close of the base in 1965, the family moved to Warner Robins, Georgia, and then to Melbourne, Florida.
Upon John's retirement in 1973, they returned to Theodore, Alabama, where they lived until John's death in 2015 after 65 years of marriage. Elinor worked in various church administrative roles at Shirley Hills Baptist Church (Georgia), Harbor City Baptist Church (Florida), and First Baptist Church of Theodore throughout those years. She was a faithful member of her church and was active in Sunday School, WMU, Pryme Tymers, many committees, and charitable initiatives, and published The Guide newsletter each month until her retirement. Her church family was her strongest social circle, and her dear friends supported her through good times and sad.
Elinor spent several years sewing and smocking children's clothes by hand. Many children of her family and her friends received exquisite heirloom items created by Miss Elinor. Having grown up without a motherly role model, Elinor's greatest accomplishment was creating herself as a loving and caring mother for her two daughters.
Elinor was preceded in death by her parents; her husband, John Mason Fountain; and her daughter, Karen Fountain Davis. She is survived by her daughter, Shara Fountain (Stephen Anderson); grandson, Joseph Aaron Huebner; three step-grandchildren, Adam Anderson, Anita Anderson Turner, and Somjit (Angie) Anderson; two step-great-grandchildren, Tonda Somying Turner and Annaleigh Anderson; and many Outlaw, Peel, Fountain, Knox, and Williams cousins, as well as cherished friends.
She was especially close to her Williams cousins – Max Jr, now deceased (Millie), Dan (Elaine), John (Linda), David (Marilyn), and Richard (Terry); family friend Judson R. Martin, III; and to her friend and caregiver, Connie Vandenbosch, who she considered a "third daughter."
She enjoyed and spoiled her pets and will be missed by Otto, Zelda, and Miss Kitty.
Special thanks are extended to the nurses and therapists of Springhill Home Health and Hospice and Andretta Bennett of My Happy Seniors, for the care provided to Elinor. Elinor's favorite gift was flowers, and she will be honored and celebrated with their beauty.
For those wishing to send memorials, please donate to First Baptist Church of Theodore, designating the church's 125th Anniversary Celebration Committee.
The family will receive guests for visitation at Mobile Memorial Gardens Funeral Home on Monday, June 14, 2021, at 11:00 AM, followed by a graveside service and interment on the grounds of Mobile Memorial Gardens at 12:00 PM. Current Covid-19 guidelines will be observed, and non-vaccinated attendees are asked to wear masks.
Published in Mobile Register and Baldwin County from Jun. 12 to Jun. 13, 2021.