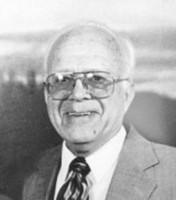 Edward Troy Hails, born Dec. 25, 1925, long time resident of Montgomery, passed away Oct. 31, 2014, in his Fairhope home after a brief illness.
He was a business school graduate of The University of Alabama in 1948. He was a loyal member of Phi Delta Theta fraternity serving as president. Along with his uncle, Andrew Hurst, he built and operated Montgomery's first motor hotel, The Town Plaza. He was active in many local civic and social clubs.
Preceded in death by his wife of fifty years, Jean McMurry Hails, he is survived by their three children; (Betsy) Edward Troy Hails, Jr, Jeannie (Philip Gendron) Austin, (Anne) Clyde Andrew Hails, and seven grandchildren: Brigg Austin, Barrett Hails, Blakeley Austin Nash, John Hails, Sarah Austin, Olivia Hails, and Rebecca Hails.
Fairhope visitation will be Sunday, 11/2 at Homestead Village, Camilla Room, at 2:00pm. The family will receive friends on Thursday, November 6, 2014 at Leak Memory, Montgomery at 1:00pm, graveside service to follow at 2:00pm at Greenwood Cemetery.
Published in the Montgomery Advertiser on Nov. 2, 2014.