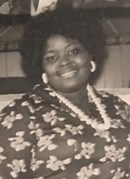 Ms. Natha Mae Hall a resident of Montgomery, Alabama expired October 9, 2017. She was preceded in death by her three older brothers, Stephen Hall (Lossie), Fred Hall and Lewis Hall; nephews Jonathan Price (Jackie) and Kenny Richardson (Michelle) and niece Nancy Richardson.
She leaves to mourn her passing her daughter, Jona Hall, her son Jonathan Hall; two sisters, Mary E. Price (Sonny) and Louise (Nathaniel) Seay; nieces, Carolyn "Joann" Dumas (Charles), Electa "Vickie" Jackson (James), Celeste J. Price and Matilda Holston (Timothy); nephews, William Price Jr., (Rose), James Richardson (Mary), and Vincent Price (Lynn); adopted sisters, Rachael Youngblood and Pastor Anita Leige and a host of grand and great-grand nieces and nephews, cousins extended family and friends.
Natha Mae Hall has been fighting the odds al of her life, but God's hand of mercy in her life has always been stronger than her opposition. A native of Montgomery, Alabama (Hunter Station) and the youngest daughter of Nathan Hall and Joanna Davis Hall, she was born prematurely on April 13, 1948, weighing only one pound at birth, But God! She went on to become the healthy, strong, gifted, educated and beautiful woman we all lovingly refer to as "Mama Hall". Mama Hall went to CW Treholmn Elementary School and George Washington Carver Junior High School and graduated from George Washington Carver in 1966.
She went on to attend Stillman College for one year before transferring to the Alabama State University. She graduated from Alabama State University with a Bachelor of Science in Business Education in 1972 and later acquired her Masters of Education in School Counseling.
She was raised in New Hope Baptist Church but later joined Klondike Baptist Church (Pastor Jackson) where she served for years. She then moved her membership to Freedom Life Church (Pastor Ritchie) before finally becoming a member of New Life COIGC (Superintendent Pastor Terry Ellison).
Mama Hall led a very active life. Her passion was inspiring and motivating young people to follow their dreams. She taught business courses at Sidney Lanier High School, Robert E. Lee High School, and Jefferson Davis High School for many years before becoming a guidance counselor for the Montgomery Area Vocational High School and then George Washington Carver Junior High School which later became Southlawn Middle School. She retired from SMS in 2006.
Family hour will be held Friday, October 13, 2017, from 6:00 p.m. until 7:00 p.m. at Ross-Clayton Funeral Home Chapel. Funeral services will be held Saturday, October 14, 2017, at 12:00 noon from New Life Church of God In Christ, Annex 5 Carriage Hills with Pastor Terry Ellison, officiating. Interment in Kindle Cemetery.
Published in the Montgomery Advertiser from October 10 to October 13, 2017