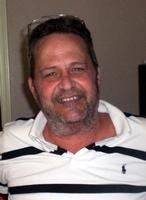 John Phillip Tatum, age 61, of Montgomery, Alabama passed away on Monday, November 5, 2018. John was born September 21, 1957, to Mabel and William Tatum.
Phillip is survived by; his daughters Christa Taylor Tatum and Emily Morgan Tatum; a son John Travis Tatum; a sister Rhonda Gay Ward and a brother Rodney Stephen Tatum; as well as best friend Richard Bell. He was preceded in death by; father William Tatum and mother Mabel Tatum. Phillip leaves behind a host of nieces, nephews, and friends to cherish his memory.
Phillip was known as an avid Alabama fan so the family has requested that everyone wear Alabama colors (red/white/houndstooth/etc.) for the visitation and memorial service. He also enjoyed NASCAR (especially Dale Ernhardt Jr.) and was particularly fond of his bourbon. His musical tastes stretched from Kid Rock to Celene Dion and Michael Jackson to Johnny Cash. His daughters said he tried to dance to them all too.
Phillip Tatum will best be remembered as the mechanic at Old Cloverdale's Tatum Texaco but he also operated a stump removal service called Stumpy's Stump Removal.
A visitation will be held Thursday, November 8, 2018, at 5:00 PM in White Chapel-Greenwood Funeral Home, 909 Lincoln Road, Montgomery, AL 36109 with a celebration of life memorial service to follow at 6:00 pm. Wear Alabama colors...
Fond memories and expressions of sympathy may be shared at White Chapel-Greenwood Funeral Home for the Tatum family.