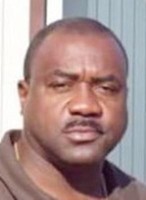 Curley "Bote" Edward Coleman was born on September 29, 1957 to the late Carrie Lee Coleman-Singleton and Jimmie Edward Coleman. He departed this life on Wednesday, March 18, 2015. Curley confessed Christ at an early age.

Curley graduated from Sidney Lanier High School in 1975. He immediately joined the U.S. Air Force and faithfully served for 25 years until his retirement in 2001. In 2002, he began his civil service career at Robins Air Force Base as a C5 Technician on the flight line. In 2007, he was transferred to the 402nd Electronics Maintenance Group as a Circuit Card Inspector where he was later promoted to supervisor. He served in this position until his untimely death.

On February 14, 1976, Curley was joined in holy matrimony to Carolyn L. Rembert. From this union, three children were born. On October 13, 2005, Curley was once again united in holy matrimony to Gwendora Harris.

He was preceded in death by his father, Jimmie Edward Coleman; mother, Carrie Lee Coleman-Singleton; sisters, Gwendolyn Carlton and Edna Johnson. He leaves to cherish, a devoted and loving wife of 9 years, Gwendora Coleman; his three children, Tyrone Coleman, Katisha Gray, and Alisha (Quincy) Wright; two devoted step children Herbert and Desmond Taylor; three brothers, Marbry (Linda) Coleman, Kenneth (Debra) Coleman, and Michael Alexander; one sister, Irene Webster; four grandchildren, Ty'auna, CJ, Laila, and Saniya; one aunt, Lucinda (Thomas) Smith; two sister-in-laws Georgia Gulley and Karen Harris; devoted friends Alvin (Brenda) Striggles, Charles (Marilyn) Herron, and Ernest (Monique) Brown.

He will also be forever remembered by a host of nieces, nephews, cousins, and friends. Funeral services will be held on Saturday, March 28, 2015 at Noon at White Cloud Baptist Church in Letohatchee, AL.

Published in the Montgomery Advertiser on March 25, 2015.