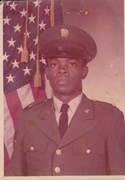 On March 12, 2017, Eddie Lee Timmons, affectionately known as "Ed Lee", transitioned to be with the God for everlasting life, surrounded by his family in Montgomery, Alabama. He was preceded in death by his father, Elliot Timmons and his beloved sister, Alfredia Timmons.
Funeral services will be held Saturday, March 18, 2017, at 11:00 a.m. from The Lilly Baptist Church, 820 Hill Street, Montgomery, Alabama with Pastor Thomas E. Jordan, officiating. Interment in Greenwood Cemetery. The body will lie in repose for one hour prior to funeral services.
Eddie was the second child and the only son born to the union of Elliot and Odessa Timmons. He was educated in the Montgomery Public School System and graduated from Sidney Lanier High School, Class of 1974. He entered United States Army in 1975.
Eddie leaves to cherish his memories his mother, Odessa Timmons; two sisters, Shirley Turner and Lisa T. Smith (Wallace) both of Montgomery, AL; two nieces, Tamara and Kenisha Turner; four nephews, Terral Timmons, Kalem Griffin, Ke'Aire Smith all of Montgomery, AL; and Akina Griffin, Atlanta, GA; seven great-nieces, Amber, Brianna, Tierra, LaKendra, LaKayla, Zykerria, and Amirra; two great nephews, Fred and Kevonte; one great great nephew, Kyson; two uncles, LW Crawford and Lorenzo Robinson Jr., three aunts, Alma, Lilly and Castella, all of Lowndes County, AL; four honorary brothers, Marvin (Bob) White, Lyle (Howard) Haughton, Kevin Hampton, and James Flowers; friend, Carolyn Jones; a host of cousins, life-long friends and neighbors.
Published in the Montgomery Advertiser from March 14 to March 17, 2017