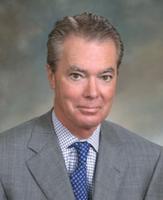 Randy was born on November 3, 1955. He graduated from Sidney Lanier High School. He was a graduate of Auburn University where he was a member of the Sigma Nu fraternity. He also received his Masters's Degree In Business Administration from Auburn University at Montgomery. He was a Certified Economic Developer as well as a graduate of the University of Georgia Institute for Organizational Management and the University of Oklahoma Economic Development Institute.
Randy served with distinction as past president and chairman of numerous committees for the Salvation Army. He was honored with the prestigious Lifetime Board Member Award for his more than 30 years of dedicated service to the Army. He also served on the boards of Hospice of Montgomery, AmeriFirst Bank, and the Montgomery Chamber of Commerce. He was an active member of Saint James Church having served in various capacities. Randy was a mentor and inspiration to many and was truly an exemplar to all who knew him.
Randy began his career at the Montgomery Chamber of Commerce. He received the honor of Outstanding Young Man of America. His infectious enthusiasm and drive for the prize powered him through a 35-year professional career with the investment banking firm Frazer Lanier Company. He was primarily engaged in public finance, having served numerous municipalities, boards of education, counties, and utility boards throughout the state of Alabama. His business acumen and talents as Executive Vice President helped garner state and national honors and acclaim throughout his career.
A devoted family man, Randy is survived by the love of his life and wife of 45 years, Levis Chatman Rushton, daughter Miranda Mae Rushton (the baby); brothers Gregg Rushton of Columbiana, AL; Rick (Millie) Rushton of Raleigh, NC and sister Eleanor Wise(Gary) Moon of Hoover, AL. Randy's life was also blessed with numerous brothers and sisters-in-law, aunts, uncles, nieces, nephews, and great-nieces. He is preceded in death by his parents Jack Edward Rushton and Betty Cooner Rushton
The family wishes to extend many thanks and blessings to his caregivers; Ann Ross, Ben Hampton, and hospice nurses Monique Hardie and Annmarie Harley.
In lieu of flowers, donations may be made in his memory to the Salvation Army's new building fund in Montgomery, Alabama.
A celebration of his life and a tribute to his legacy will be held in January 2022 at Saint James Church with the Reverends Lester and Janeese Spencer officiating at a date and time to be determined.