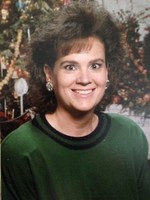 Donna Sue Champion of Montgomery, passed away on March 3, 2018, at her home. She was born in Montgomery, Alabama, on April 6, 1956, to George and Edna Champion. She lived in Montgomery her entire life. Donna graduated from Sidney Lanier High School and received a Bachelor's degree in Accounting from Troy State University. She attended Frazer United Methodist Church in Montgomery.
Donna enjoyed being with people and providing care when needed. She was also an Alabama Football Fan. Her hobbies included travel, walking, tennis, and enjoying the AUM Wellness Center.
She was preceded in death by her parents Edna Albright Champion and George Madison Champion. She is survived by her sisters, Lisa (Roscoe) LeGear of Prattville, Alabama, and Janet (Bill) Seay of Atlanta, Georgia; her brothers, George Champion of Atlanta, Georgia, and Robert Champion of Prattville, Alabama; lifetime, sister-like friend Dana Eunice of Montgomery, Alabama; a niece, Kimberly McGlaun; nephews, James McGlaun, Brian Seay, and Kevin Seay; and also two great-nieces, and four great-nephews.
Visitation will be held on Wednesday, March 7, 2018, at 1:00 p.m.at Leak Memory Chapel with a graveside Celebration of Life at 2:00 p.m. at Greenwood Serenity Cemetery.
The family would also like to thank the many healthcare professionals at the Montgomery Cancer Center, The Amedisys Hospice, and Home Instead Care for providing loving care to Donna.
In lieu of flowers, donations may be made to the Cancer Wellness Foundation of Central Alabama for pancreatic cancer research through the Montgomery Cancer Center, 4145 Carmichael Road, Montgomery, AL 36106.
FAMILY

Lisa LeGear, Sister
Janet Seay, Sister<
George Champion, Brother
Robert Champion, Brother
Dana Eunice, a Lifetime friend
Kimberly McGlaun, Niece
James McGlaun, Nephew
Brian Seay, Nephew
Kevin Seay, Nephew

She also leaves two great-nieces and four great-nephews.