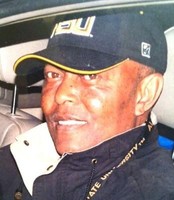 Wille Edward "Bay" Boswell, age 58, a resident of Montgomery, Alabama, passed away at his home on Thursday, April 3, 2014.
Funeral services were held on Thursday, April 10, 2014 at Morning Pilgrim Missionary Baptist Church, 1309 E. D. Nixon Avenue at 12:00 noon with Pastor James Watts, Sr., officiating. Interment was held at Alabama Heritage Cemetery, 10505 Atlanta Highway with E. G. Cummings Memorial Funeral Home directing. The body of Mr. Boswell lay in repose for one hour prior to funeral services in the church.
He leaves to cherish his memories his devoted and loving wife of 31 years, Anita Boswell; daughter, Ashlee Danielle Boswell, Houston, TX; son, Jason Lewis Boswell, Atlanta, GA; mother, Mrs. Arwilda Moncrief Boswell; siblings, Patricia (Dea. Willie) Holdren, Mable (Rev. W. Benson) Thomas, Tommy Boswell and Angela B. (Adam) Pierce, all of Montgomery, AL; aunt, Mrs. Lillian Harvey of Snowden, AL; five loving sisters-in-law, three brothers-in-law, a host of nieces, nephews, a special nephew who was like a son, Stephen L. Holdren, very devoted friends and family.
Published in the Montgomery Advertiser from Apr. 4 to Apr. 9, 2014