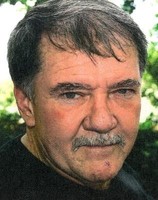 Gerald Len "Jerry" Vogel, 62, a Montgomery resident, died Friday, November 3, 2017. Jerry was preceded in death by his father, Billy Vogel; brother, Keith Vogel; & half-brother, Tommy Vogel.
Jerry is survived by his mother, Sue Jackson; wife, Barbara; sons, Michael Hanley (Jordan) and Christopher Hanley (Kristen); grandchildren, Hudson, Allison, Ashley, and Tali Marie; half-brother, Bobby Vogel and a number of cousins, nieces, and nephews.
Jerry was a loving husband, son, father, and grandfather, "Gunk-Gunk".
Visitation will be held Wednesday, November 8, 2017, at 10 am, at Leak Memory Chapel, followed by a Celebration of His Life at 11 am, with Rev. Walter Albritton officiating. Interment will follow in Alabama Heritage Cemetery.
In lieu of flowers, memorials may be made to:

Montgomery Humane Society.
Online condolences may be made at www.leak-mc.com.
Published in the Montgomery Advertiser on Nov. 5, 2017.