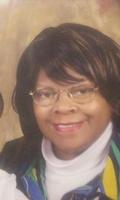 Audrey Kay Thomas, a resident of Montgomery, Alabama, passed away on May 22, 2019.
The funeral service will be held Wednesday, May 29, 2019, at 11:00 a.m. at Bethel Missionary Baptist Church, 2106 Mill Street, with Pastor Dr. Calvin McTier officiating.
Interment will be held at Eastwood Memorial Cemetery with the staff of E. G. Cummings Memorial Funeral Home directing.
The body of Ms. Thomas will lie in repose one hour prior to the funeral service at the church.
E. G. Cummins Memorial
Montgomery, AL 36108
334-26-9221
Posted online on May 26, 2019
Published in Montgomery Advertiser