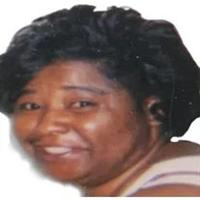 Ella Barbour, age 64, a resident of Montgomery, Alabama, died on June 12, 2020. She is preceded in death by her husband George Barbour, Parents James Edwards Sr and Zella Mae Edwards, and four siblings: Carl Jerome Edwards, Daisy Ann Nettles, James Edwards II, Alexander Edwards, and Uncle Abe Cotton.
She leaves to cherish her memory two sisters Karen Edwards, Minneapolis, Minnesota, one loving and very devoted sister, Sarah L. Thomas, Montgomery, AL., Two Nephews: very devoted nephew and niece Johnny L. Thomas Sr. (Anita Fay) Thomas, Wetumpka, AL, James Edwards III, Montgomery, AL; Four Nieces: Eboni Snodgrass Anniston, AL, Kenyatta Nettles, Saginaw, MI, Bobbie Miller, Montgomery, Zenobia (Antonio) Hamilton Prattville, AL. Great nieces and Great Nephews: One of which is her God Son Mr. Johnny L. Thomas Jr., Arlington, VA., Armand Thomas, Wetumpka, Dante Miller, Montgomery, AL. Antonio Hamilton Jr. Prattville, AL. A special devoted niece Brittany Thomas, Montgomery, AL., Antilea Hamilton, Prattville, AL Dontayasia & Za'maria Nettles, Eleah McCoy, Emon Adesanya, Saginaw, MI. JaVaughn Edwards, Montgomery, AL. Two sisters-in-law, Patricia Edwards, and Hyocha Edwards of Montgomery, AL. One Brother-in-law R.D. Nettles Saginaw MI., Two Uncles: A very devoted uncle Joseph Lowery (Leah), Saginaw, Michigan, Jimmy (Evelyn) Lowery, Mary Hudson, Dorothy (James) Knight, Cornelia Ann Wilson, all of Montgomery, Alabama, and one Great Aunt Dorothy Cotton of Detroit, Michigan.
Hillside Memorial and Gardens directed.
https://www.hillsidememorialgardens.com/obituaries/Ella-Barbour/?fbclid=IwAR3pB0NwNJLfrhCjVNpLvJ9kKMq-vUjVQJoLxrC-5zF3EPmLSegwCk93Clo#!/Obituary