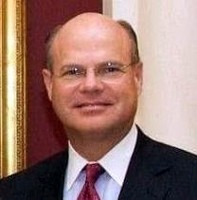 William (Bill) Frank Burke, age 62 of Marietta, Georgia, passed on April 1, 2017.
Bill was born in Montgomery, Alabama on December 25, 1954. He attended Sidney Lanier High School and Auburn University. At Auburn, he studied Finance and Accounting and was a proud member of the Sigma Nu Fraternity.
Bill, first and foremost, loved his family which included his golden retrievers, past and present. He was a man of many talents and enjoyed working with his hands in the garden, with tools and had a passion for cooking. Bill had a wicked sense of humor and lived for making people laugh just as much as he liked laughing. He was a sports enthusiast with a heart for the Auburn Tigers, the Atlanta Braves and a recent affinity for Cam Newton and the Carolina Panthers. His charisma would light up a room and instantly make you feel at ease. He had a way of making light of any situation and thrived off making memories with friends and family.
He had a passion for volunteer work locally with the Prevent Blindness Georgia and especially cherished his travels with co-workers and friends to Aman, Jordan. Bill will be remembered as a caring husband, father, brother and friend; one who could make you laugh until you cried; a faithful man who believed in a higher being and one who had a heart that was bigger than words can describe.
Bill is survived by his wife, Jana of Marietta, Georgia; Daughters, Mary Britt Burke of Savannah, Georgia, Claire Burke of Charlotte, North Carolina, Maggie Thomason and Son-in-Law Andrew Thomason of Atlanta, Georgia; Sister, Karen Conway of Montgomery, Alabama; Stepmother, Dorothy Burke of Green Hill, Alabama, and many more beloved family.
A memorial service will be held on Thursday, April 6, 2017, at 2:00 pm at Sandy Springs Chapel, 136 Mount Vernon Hwy, NE Sandy Springs, GA 30328.Visitation at 1:00pm-2:00pm. A reception will follow at 5060 Riverhill Road, Marietta, Georgia 30068. The reverend Billy Wade will officiate.
In lieu of flowers, memorial contributions may be made to:
Prevent Blindness Georgia
739 W. Peachtree St. NE
Atlanta Georgia 30308