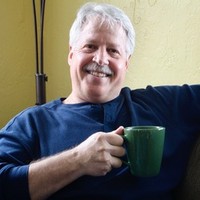 James Oliver Wingard, known to family and friends as Oliver, Ollie, Dad, Husband, Opa, Brother, Son, Uncle, and Friend passed away in his sleep on Sunday, May 6th, 2018 with Sally, Karyn, and Andrea by his side.
On March 29th, 1954, Oliver was born in the rural farming community of McKenzie, Alabama. Oliver loved to tell stories of daily farm chores, his mother's cooking, and the trouble he and his brother would get in to from time to time. The family eventually moved to Montgomery, Alabama where Oliver graduated from Lanier High School.
He graduated from Auburn University where he majored in electrical engineering and worked at Alabama Power Company in Birmingham as part of the co-op program. Oliver went on to work most of his career at Fluor, an international engineering, and construction firm as an Electrical Engineer. He participated in and oversaw many engineering projects within the United States as well as Saudi Arabia, South Korea, Russia, and Thailand.
Oliver had a great passion for life and immersed himself in photography, scuba diving, overseas travel, learning new languages, and clearing brush at his property in Columbus, Texas. He specialized in making his famous potato salad and always ordering two of everything at restaurants.
It didn't matter if you were a lifelong friend or a stranger, he brought a smile to everyone's faces and warmed the souls of many. Friends call him one of the kindest and sincerest of people they've ever met. He loved to laugh and never took himself too seriously.
His daughters learned from him the value of hard work, the appreciation of diverse peoples and cultures, and the ease in which connection takes place when you look someone in the eye and listen to their story.
It was later in life when he met his love, Sally. She reigned in his tendency for excess (he stopped ordering two of everything) but made up for it by providing the last ten years of his life with a true and deep love that brought him more peace than he'd had in a very long time. Leaving her was the hardest thing he had to do.
Oliver will be lovingly remembered by his wife Sally Wingard; two daughters Karyn Wingard-Manuel (and son-in-law Jeff Manuel) and Andrea Cruz (and son-in-law René Cruz); his grandchildren Grayson, Brooks, Stella, and Iliana; as well as his father Paul Ray Wingard and siblings Paul Wingard, Rhonda Overton, Dale Wingard and Barry Wingard. His mother, Betty Wingard is currently holding him in a loving embrace and cooking him up a plate of fried chicken, butter beans, and warm cathead biscuits.
Oliver loved the outdoors. It is with this in mind that we have designated the charity, Texan by Nature, for any memorial donations you would like to make in his honor. See below for details: Texanbynature.org; In comments, write "In honor of Oliver Wingard"
If you'd like to notify the family, use this address:
McGarrah Jessee
c/o Andrea Cruz
121 W 6th Street
Austin, TX 78701
All are welcome to a reception at Schmidt Funeral Home on Thursday, May 10th from 1-2: 15 pm. A memorial service will immediately follow at 2:30 pm. The address is 1344 West Grand Parkway South, Katy, Texas 77494.