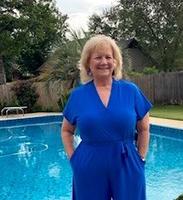 Susan Patterson Parker, 68, of Montgomery, Alabama, passed away on February 10, 2023, after a brief illness with cancer.
Susie was born on December 29, 1954, as the middle child and first daughter to Colonel Archie and Elizabeth Patterson in Dayton, Ohio. As the child of an Air Force officer, Susie moved often across the country, but the family moved to Maxwell AFB in Montgomery, Alabama while she was in her teens. She was convinced her father made a special arrangement with the Air Force to move, just to keep her from getting serious with her then-boyfriend.
When she spoke of her teen years, she would talk of her love of the ballet, smoking behind the base dispensary, and decoupaging a wooden purse that seemed to be a thing back in the 1970s. She graduated from Sidney Lanier High School and after attending a women's college in Virginia, returned to Montgomery to start her first and only job with the Civil Air Patrol (CAP). She worked at CAP her entire life, except for a short break after her children were born.
She had three children, Beth Ann, and identical twins, Greg and Jeff. Susie was a single mom and despite financial and time constraints made sure that her children wanted for nothing materially or spiritually. Family meant everything to Susie and her grandchildren held a special place in her heart. Susie cherished every opportunity to attend any and all sports games, awards ceremonies, book fairs, and any other opportunity to spend time with the grandkids. Her love and pride for her family shone bright.
For her many fortunate friends, Susie's definition of family extended to anyone she loved and the people they loved. She was fiercely loyal and caring and you'll find that more than one person claims she is their best friend.
Susie's personality was larger than life. She loved laughing, animal prints, wearing holiday-appropriate clothing, musical theatre, and pretty much any opportunity that would allow her to shine in the spotlight, preferably while wearing sparkly flip-flops. She would monogram anything if it sat still long enough and adored decorated holiday cookies. She expressed joy and love with no reservations and was equally passionate when infuriated. Lord help you if you wore white after Labor Day!
At Civil Air Patrol, Susie worked her way up to be the Director of Membership and Personnel Actions. Her almost eidetic knowledge of the regulations, her intelligence, and impeccable memory garnered her a whispered nickname among the staff and CAP members as "The Oracle." She was afforded the reverence usually given to rockstars and everyone wanted to be able to say that they met Susie. She is an integral part of CAP's history and her contributions to the organization will not be forgotten.
Despite numerous theological theories about what heaven is like, Susie was steadfast in her belief that heaven was a perpetual beach vacation. She was adamant that in her heaven, she would be reading on the beach with beauty-pageant-size blond hair, a never-ending Diet Coke with Sonic ice, and sparkly flip-flops.
Susie is survived by her brother John R. Patterson (Katie) of Atlanta, Georgia, and Patty P. Patterson (Ross) of Bluffton, South Carolina. She is also survived by her three children, Elizabeth Ann Smith (Jason) of Deatsville, Alabama; Gregory James Parker of Prattville, Alabama; and Jeffrey Eugene Parker (Taylor) of Mathews, Alabama. Survivors also include three grandchildren, Mackenzie Elizabeth Smith, Ashlynn Parker Smith, and Coleman Frank Parker, plus a host of nieces, nephews, and friends.
The family will receive friends on Wednesday, February 15, 2023, from 4:00 p.m. to 6:00 p.m. at Alabama Heritage Funeral Home in Montgomery, Alabama. A memorial service will be held Thursday, February 16, 2023, at 11:00 a.m. at Centerpoint Fellowship Church in Prattville, Alabama, followed by a graveside service at Alabama Heritage Funeral Home.
Pallbearers will be Allan Barber, Michael Forney, Coleman Parker, Greg Parker, Jeff Parker, Jason Smith, and Ross Patterson.
Fond memories and expressions of sympathy may be shared at www.AlabamaHeritageFH.com for the Parker family.
Memorial donations may be made to Children's of Alabama.
IN THE CARE OF
Alabama Heritage Funeral Home & Cemetery
https://www.dignitymemorial.com/obituaries/montgomery-al/susie-parker-11149418