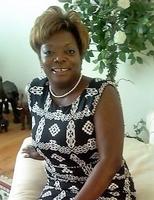 As beautiful as a rose to see was her life, she lived so gracefully. She made things precious with her touch; her selfless love lives on in each of us. The petals of her life fell one by one, each a gift of her heart till there were none. Yet her radiance blooms once again in fields of glory with no end.
Linda Jane Boldin was born on September 28, 1955, in her hometown of Montgomery, Alabama, to her parents, Richard N. Boldin Jr. and Millie Ann Sers Boldin. She was the second-born child after her brother, Larry N. Boldin. Linda attended Mrs. Chilsolm Private School until the 4th grade. She attended Booker T. Washington Secondary School for 5th -10th grade and Sidney Lanier High School from 11th-12th grade and graduated in 1972. As a child, Linda always had a captivating personality. She affectionately started calling her Granddaddy Boldin "Kee-Kee" while asking him for some candy that she was not supposed to have. She looked up at him and said, "Kee-Kee, please," and he gave her everything she asked for. From that day on, everyone in the family started calling him "Kee-Kee." One of the proudest moments for Linda's family, especially for her mom, was when Linda made the band and became a member of the Booker T. Washington "Yellow Jackets" Marching 100.
After completing high school, Linda went on to further her education at Tuskegee University, where she earned a Bachelor of Science in Dietetics in 1977. As the first to graduate from college in her family, she blazed a trail for her daughter, Millacynt, and her nieces, Felita, LeQuanda, and Candace, to follow. Linda fully emersed herself in college life while at Tuskegee University. She was a member of the Tuskegee marching band and pledged to Delta Sigma Theta. It was there that her passion for cooking and adventure grew. Her passion for cooking was initially cultivated by her grandfather, Kee-Kee.
Linda relocated to Denver, Colorado in 1978, determined, confident, and shining bright. She was hard-working, friendly, loving, and genuine. Linda began her career in Denver, working at University Hospital in food services. She also accepted a position as a Manager at Wendy's for a brief time. She was eventually hired by the State of Colorado in 1980 and assigned to the Gilliam Youth Service Center. She was the Director of Food Service. She impacted the lives of many children and families. She was an ardent advocate for those that were less fortunate and just needed to see a bright smile and have at least one person in their corner. She was absolutely that for so many young men and women. She embodied the motto of Gilliam "Even if you affect one child, it is worth it." She retired after thirty-five years of dedicated service.
After retiring from the State of Colorado, Linda began her work journey with United Airlines in 2016. She enjoyed working for United Airlines as it gave her the ability to visit her family, travel the world, and meet celebrities. Linda stayed with a travel bag that was packed and ready to go. While at United, serving as a Customer Service Agent, she never met a stranger and was the epitome of professionalism; so much so that she never called in or missed a day of work and was awarded an extra merit point. After six years of a rewarding career filled with adventure with United, Linda retired from United on March 1, 2022.
Of all the things that Linda achieved in her life, the thing she cherished the most was being a mom. Millacynt Jane Boldin, who she named after her mother, Millie Ann Boldin, changed Linda's life forever. Linda and Millacynt did EVERYTHING together, from wearing matching outfits, having designated movie nights, and traveling the world. Millacynt was Linda's pride and joy. As a mother, Linda provided Millacynt with a solid foundation and loving environment that enabled her to become an amazing woman. Motherhood came naturally to Linda, and she was a wonderful mother. She made sure that Millacynt was prepared for life's journey. As a result of Linda's guidance, encouragement, and nurturing, Millacynt graduated from Miles College and recently married her college sweetheart, Tre Mason. Professionally, Millacynt was inspired to follow in her mother's footsteps and work for United Airlines as a Customer Service Agent.
Linda was an extraordinary friend, cousin, aunt, niece, sister, daughter, and mother. Linda believed in gathering with family and friends and the importance of staying connected. Linda's natural love for people meant that once you met her, you had a lifelong friend. Whether Linda was traveling to see family or meeting with a neighbor next door, she would find her way into your kitchen, and before you knew it, she would be serving you, never mind that she was the guest. To be a friend to Linda was to be a part of her family. Linda had several close friends that were blessed enough to become her sisters and Millacynt's aunts.
Linda J. Boldin lived a life that reflected her strong relationship with God and faith in him to guide and direct her life. At an early age, she accepted Jesus Christ as her Lord and Savior and was baptized at Beulah Baptist Church in Montgomery, Alabama. As she grew and matured in the Lord, she was not just a hearer of the word but also a doer, serving in several ministries throughout her life. Linda and her daughter, Millacynt, joined the King Baptist Church family in 2000. She did not waste any time putting her talent for cooking and serving others to use. As a dedicated member of King Baptist Church, Linda served on the Hospitality Committee, where she often provided the necessary food and supplies to support the ministry, and was also a member of the Usher Board. With her firm belief in raising a child in the way they should go, she ensured that her daughter, Millacynt, was also actively involved in ministry.
Linda's ministry extended beyond the church walls. She was an active member of her community. She was one of the founding members of the Circle of Sisters Book Club, which started in 1998. Through this organization, she was able to touch the lives of women throughout the community through fellowship and sisterhood. She was also a part of the National Association for Blacks in Criminal Justice (NABCJ). Her infectious laughter, smile, and grace were an inspiration to everyone around her. Linda would want us all to celebrate her life and not mourn her passing. She will be missed by all who were fortunate enough to have known this Queen of a Woman. To know Linda was to love her.
On March 5, 2022, Linda J. Boldin passed away in Denver, Colorado. Those left to cherish her memory and mourn her loss include her loving daughter, Millacynt J. (Tre') Boldin-Mason of Deltona, Florida; her brother, Pastor Larry N. Boldin (the late First Lady Jenett Boldin) of Mary Esther, Florida; three nieces, Felita N. Boldin of Aldie, Virginia, LeQuanda L (Glenroy) Cole of Las Vegas, Nevada and Candace L. Boldin of Ft. Walton Beach, Florida; three great-nephews, Elijah N. Boldin of Aldie, Virginia; Boldin C. Cole and Jenson A. Cole both of Las Vegas, Nevada; two aunts, Annie Pearl Edwards of Brooklyn, New York and Jessica (Ronald) Collins of Montgomery, Alabama; one uncle, John Boldin of Washington, DC; and a host of cousins. Other relatives and many friends.
Published by Pipkin-Braswell Funerals on March 9, 2022.
https://www.legacy.com/us/obituaries/name/linda-boldin-obituary?id=33565508