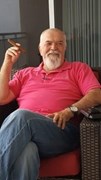 John Parker Adkison, 63, of Montgomery met his Lord and Savior face to face on October 15, 2017. He began his eternal Harley ride with the wind always in his face and the sun on his back. John was preceded in death by his parents, Trammel and Agnes Adkison, and infant brother, Larry Adkison.
John is survived by his devoted wife of 17 years, Sharon Monfee Adkison; his brother, Jim (Dianne) Adkison; 4 fur children, Ziggy, Simon, George, and Zoie; and a host of friends and family.
John was a member of the Montgomery Harley Owners Group and the chapter Photographer. He also belonged to the High Rollers Bowling Team and the Capital City Quarterback Club. He was employed by Alabama Power for over 41 years as a Senior Electrical Engineer.
Visitation will be held at Leak Memory Chapel from 1:00-2:00 p.m. on October 18, 2017, with a chapel service following at 2:00 p.m., and burial to follow at Greenwood Serenity Cemetery.
In lieu of flowers, the family asks that donations be made to a humane society of your choice.
Published in the Montgomery Advertiser on October 17, 2017.