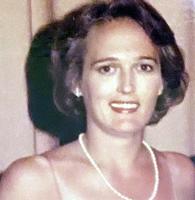 On Thursday, May 7, 2020, Catherine Eugenia Vinson Ogburn (Cathy), loving wife, mother of two children, and grandmother of six, passed away at the age of 66 years old after a brief illness. Cathy was born on May 11, 1953, in Montgomery, Alabama to Wilmer Olin and Frances (Angelini) Vinson. She graduated from Sidney Lanier High School in 1971 and she attended Auburn University at Montgomery. She married the love of her life, William Robert Ogburn (Bob), on September 30, 1972. Cathy worked for the State of Alabama as a title examiner until she had children and decided to be a housewife. Cathy and Bob raised two children, Amy Catherine Ogburn (Oster) and William Robert Ogburn, Jr. (Robert) in Montgomery, Alabama.
Cathy was passionate about fishing, gardening, and Auburn football. One could often find her fishing on Lake Jordan, where she and Bob eventually purchased a home where she lived until her death. Cathy loved growing her vegetable and flower garden, especially her tomatoes, field peas, wild ferns, and hydrangeas. She was also a member of the Garden Club in Montgomery before moving to Lake Jordan. Cathy was the biggest Auburn fan! She loved everything Auburn and she would tailgate and attend most of the home football games. One would always hear her yell "War Eagle" anytime Auburn was playing. Cathy will always be remembered for the love she had for her family and friends, her wonderful sense of humor, and her quick wit.
Cathy was preceded in death by her father, Wilmer Olin Vinson, and her first grandchild, Catherine Elizabeth Yeager. She is survived by her mother, Frances Vinson, her husband, Bob Ogburn, her children, Amy Catherine Oster (John Preston Oster "Jack") and Robert Ogburn, and her grandchildren, William Frederick Yeager, Emma Margaret Oster, Jeffery Joseph Hughes, Jr., Emma Catherine Hughes, and Sophia Elizabeth Oster, her sister, Amy Vinson Rutledge (Steve), and her brothers, Larry Allen Vinson (Karen) and Craig Olin Vinson (Julia). She is also survived by many nieces, nephews, and cousins.
The visitation for Cathy will be at 10:00 am on Friday, May 15, 2020, at Leak Memory Chapel, 945 Lincoln Road, and the graveside service will be at 11:00 am, at Greenwood Cemetery, 909 Lincoln Road, with Pastor Dale Huff presiding.
In lieu of flowers, please send donations to Baptist Medical Center East Newborn Intensive Care Unit.
PALLBEARERS: Bennett Rutledge, Vinson Rutledge, John Teta, Brooks Vinson, Craig Vinson Jr., Will Yeager.