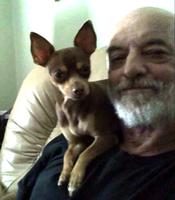 Robert Haynes Thompson, Jr. passed away on May 3, 2020. He was preceded in death by his parents, Robert Haynes Thompson, Sr., Joel R. Brown, Mary Ann Thompson; and a sister, Malissa Walton Moore.
He is survived by his daughter, Stephanie Thompson Copacz; granddaughter, Caitlyn; mother, Barbara S. Brown; sister, Terri Botts, and her daughter, Emily Botts; sister, Tammy Clark and her son, Colby Clark; and his fellow Biker brothers and sisters. He leaves behind his beloved dogs to cherish his memory.
Robert loved spending time with his family and visiting with his friends. He enjoyed hunting, fishing, and riding his Harley Davidson. He was an avid Alabama football fan.
He requested no services, but friends plan to celebrate his life at a later date.