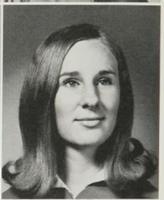 Nancy Meigs-Curtis
December 8, 2022
Sadly I share that we have lost another Class of '71 Poet - Gail Moore Priester. She had resided in her home in Wetumpka. Her daughter posted this on Facebook. Rest In Peace, Gail.
"My mother Gail Moore Priester passed away yesterday after a long battle with Alzheimer's Disease. She was loved by me and many others especially her three grandchildren Cooper, Walker, and Lucy.
She did so much for me growing up and did a lot of it on her own as a single mom. The older I've gotten I've realized just how difficult that truly was. My mother taught me to love reading, floor plans, and containers of every shape and size!
One of her favorite things was reading books to her grandchildren. I'm so glad she helped instill a love of reading in them too. She was also a well-known teacher at Eclectic Elementary where she taught for over 20 years. I know she touched many lives there.
We will continue to miss her, just as we have these last few years.
We will hold a celebration of life in the spring to celebrate and remember her.
If you feel led, please make a donation to the Alzheimer's Association in her memory."