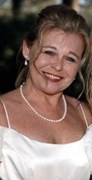 Cynthia Ohlin, age 63, passed away peacefully on August 22, 2016 in Montgomery, Alabama. She is predeceased by her mother, Lillian Spurlock.
She is survived by her sons, Michael Joiner, Rusty Joiner (Charity), and Jack Ohlin; grandchildren, Preston Joiner, Trevor Joiner, Patrick Joiner, Cariss Joiner, and Justus Joiner; father, Thomas A. Mercer (Francis); sister, Marguirette Fields (Lyle); brother, Thomas A. Mercer, Jr. (Mary); and a host of aunts and uncles, nieces and nephews, and cousins.
A visitation will be held on Thursday, August 25, 2016 from 5:00-7:00PM and Friday August 26, 2016 from 2:00-3:00Pm at Leak Memory Chapel. A Celebration of Life Service will be held on Friday, August 26, 2016 at 3:00PM at Leak Memory Chapel. Burial will follow in Greenwood Cemetery.
She lived her life walking by Faith, sharing the power of prayer, and the love of Jesus to all.
For online condolences and additional obituary please visit www.leak-mc.com.
Published in the Montgomery Advertiser on Aug. 25, 2016.