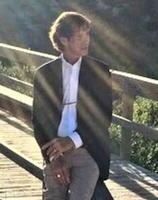 Robert Tyson Proctor died on August 29, 2023, at his home at age 73, in Montgomery, Alabama. Robert was born in St. Louis, Missouri on June 30, 1950, to Richard Carlton Proctor and Mary Chapman Proctor.
He was preceded in death by his parents, and his grandparents, Carlton Springer Proctor and Isabel Lucey Proctor of Bronxville, New York, and Willy Wilson Tyson and Archibald Pitt Tyson of Montgomery, Alabama.
He is survived by his loving wife of 39 years, Margaret Frazer Proctor; brother, Carlton Proctor Jr.; mother-in-law, Lee Frazer; brothers-in-law, Tom Frazer (Virginia), Nim Frazer (Judy), and John Frazer (Connie); sister-in-law, Hunter Frazer; and many beloved nieces, nephews, and grandnieces and grandnephews.
Robert graduated from Sidney Lanier High School in 1968 and attended Auburn University in Montgomery and Columbia Film School in New York City.
Robert had a distinguished career in broadcast television and journalism working for Alabama Public Television, CBS, and the National Chamber of Commerce. He then moved to Atlanta and worked at CNN for 25 years. Robert was part of a team at CNN that covered many important events including Hurricane Katrina for which he won a Peabody award. Following his retirement, he continued freelancing for Turner Broadcasting of Atlanta.
Uncle Robert was loved by his family and friends for his gentle spirit, sense of humor, kindness, and compassion for everyone. He was a man of character with a legendary work ethic who was admired by all who knew him.
A memorial service will be held on Wednesday, September 6, 2023, at 11:00 a.m. at St. John's Episcopal Church in Montgomery, Alabama with visitation immediately following in the parish hall.
The family would like to thank Mary Rembert, Paula Mims, Jennifer Chadwick, Rebecca Aplin, Lamar Barber, James Lewis, and Patricia Ivey.
In lieu of flowers, please consider a donation to

Shepherd Center - https://www.shepherd.org/

Medical Outreach Ministries - https://www.momclinic.org/

Saint John's Episcopal Church - https://stjohnsmontgomery.org/
Posted online on August 31, 2023
Published in Montgomery Advertiser
https://www.montgomeryadvertiser.com/obituaries/mad079022?fbclid=IwAR2-1R4nj9Aqb1Po9FNowAI9uwAI86WgLfN5Uf4jPaFvQc5W6KNIzVVG1Q8