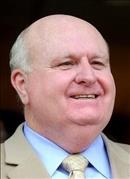 "D.T." Marshall, 65, a Montgomery resident, died Wednesday, March 23, 2016.
Survivors include three sisters, Elizabeth Wamhoff, Annie Pease (Todd), and Joyce Davis; two brothers, Bobby Marshall and Huey Marshall III (Caryn); stepdaughter, Lyndsey Whaley (Cory); step-grandchildren, Jackson & Adalyn Whaley; caregiver and nephew, Timothy Bouchard; two great nieces, Alexia Pease & Ansley Bouchard; and several other nieces and nephews.
Visitation will be held Monday, March 28, 2016, from 12:30 - 2:30 PM, at Frazer Memorial United Methodist Church, followed by a Funeral Service at 3 PM. Burial will follow at Forest Hills Cemetery in Snowdoun.
Pallbearers will be Dimitri Polizo, Ed Alford, Derrick Cunningham, Timothy Bouchard, Greg Thompson, & Todd Bouchard.
Honorary Pallbearers will be members of the Montgomery Police Department, Montgomery County Sheriff's Office, Alabama Sheriff's Association, Tracey McCooey, and retired Detective Danny Carmichael, and best friend and fishing buddy Norman Mitchell. Condolences may be offered at www.leak-mc.com.
In lieu of flowers, memorials may be made to:
V.O.C.A.L. or
Snowdoun United Methodist Church.
Published in the Montgomery Advertiser from Mar. 26 to Mar. 27, 2016.