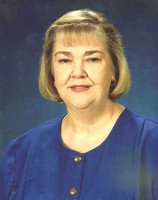 Anita Gay King, 63, passed away March 17, 2014, at her residence after a brief illness. Miss King was born July 8, 1950, in Murfreesboro, TN, to the late William Claud King, Jr. and the late Emma Martha Mohon King.
After graduating from Sidney Lanier High School in 1968, she attended Troy State University. She was employed by St. Margaret's Hospital and Baptist Hospital South for 38 years. Miss King was a member of Eastmont Baptist Church.
Survivors include a brother Larry Alan King, his wife Geraldine, and daughters Meredith and Julie of Columbus, GA; a brother Gary Lee King, his wife Kim, and sons Daniel, Taylor, and Judson of Wetumpka, AL; and a brother Glen Neil King, his wife Yvonne, and daughters Meredith and Rachel of Prattville, AL. Also surviving are an uncle, Don Mohon; an aunt, June Mohon; a cousin, Phil Mohon; and great nieces Gracie Bragg and Emma Bragg.
A graveside funeral service for Miss King will be held Thursday, March 20, 2014, at 11:00 a.m. at Greenwood Cemetery. Visitation will be Wednesday, March 19, 2014, from 6:00 until 8:00p.m. at Leak Memory Chapel, 945 Lincoln Rd. In lieu of flowers the family suggests that memorials be made to Eastmont Baptist Church, 4505 Atlanta Highway, Montgomery, AL 36109, or to the Montgomery Humane Society, 1150 John Overton Dr., Montgomery, AL 36110.
Published in the Montgomery Advertiser from Mar. 19 to Mar. 20, 2014