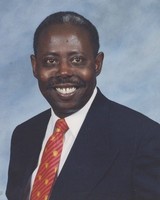 Arlam Carr, Jr., a resident of Montgomery, Alabama, passed away on September 26, 2013.
Funeral services will be held on Saturday, October 5, 2013 at 11:00 a.m. from St. Paul A.M.E. Church, 706 E. Patton Avenue, with Pastor Farrell Duncombe officiating. Interment will be held at Golden Gate Cemetery, Old Selma Highway, with E. G. Cummings Memorial Funeral Home directing.
Arlam leaves to cherish his memories a devoted wife of 33 years, Deborah; sisters, Annie Bell (Benjamin) Beasley and Alma Lee Smith, [both of Montgomery, AL]; children, Brian (Karen) Hawkins [Norwalk, CT] and Daphne Hawkins [Montgomery, AL]; niece, Adrienne Everage; grandchildren, John and Whitney Hawkins; great-nephew, Joshua Sims; aunts, Minnie Holloway [Gary, IN], Lillie Larkin [Chicago, IL] and Ruby Larkin [Montgomery, AL]; sisters-in-law, Veronica Hawkins [Montgomery, AL] and Felecia Hawkins [Dayton, OH]; brothers-in-law, Ray (Mary) Hawkins [North Carolina], Freddie (Dorothy) Hawkins, Marvin Hawkins, Clyde (Patricia) Hawkins, and Keith Hawkins; god-children, Bren (Nikki) Cleveland, Jeneen Gadson, Arthur Allen, and Darius Goss; special cousins, Jimmy Daniels, R.T. (Essie) Carr and a host of nephews, nieces, cousins and enduring friends, Earl (Ingrid) Gooding [Houston, TX], Jimmy (Yvonne) Cleveland, Racine Jemison, James (Precious) Belton, Carolyn Mallard and Bill Ford, his Church family and his WSFA family.
The body of Mr. Carr will lie in repose one hour prior to funeral service in the church.

Published in the Montgomery Advertiser from Sept. 28 to Oct. 4, 2013
---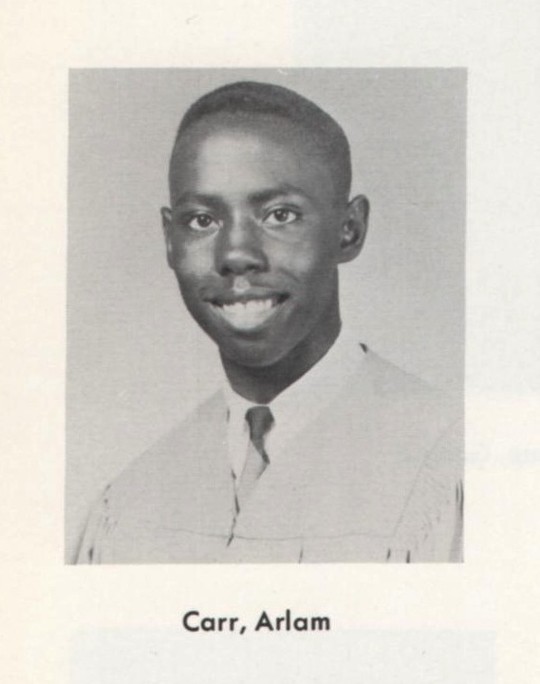 Arlam Carr Jr., the lead plaintiff in the lawsuit that forced integration of Montgomery Public Schools, died late Wednesday night at the age of 62. The son of civil rights activists Arlam Sr. and Johnnie Carr, he was raised in atmosphere of nonviolent protest and fighting for racial equality.
"In a quite literal sense, he was a child of the civil rights movement," said retired U.S. District Judge Delores Boyd, who attended Sidney Lanier High Schol with Carr.
Carr was not the first black student at Lanier, but by allowing himself to be named in a lawsuit against the school system, he helped open the door for the first black students to attend. Carr was remembered as being a quiet and humble person.
"He had a quiet courage that was really reflective of his character. He was not a loudmouth. He wasn't one to brag about being responsible for doing anything," Boyd said.
His mother, Johnnie Carr, was president of the Montgomery Improvement Association, the organization formerly headed by the Rev. Martin Luther King Jr. that was instrumental in the Montgomery Bus Boycott. She died in 2008, and a Montgomery Middle School now bears her name.
Arlam Carr Jr. decided early on that he wanted to go to Lanier, recollecting later that he was intersted in the school because it was "pretty."
Boyd said that when his mother asked if he would be willing to be named in a lawsuit being filed against the school board he said he would if it meant he could go to Lanier.
U.S. District Judge Frank M. Johnson ruled that for the first year, only the first, 10th, 11th and 12th grades would be integrated at Montgomery Public Schools, meaning Carr was too young to take part in the first year of integration. The following year, all grades were integrated. In 1964, the first three black students enrolled at Lanier. Carr, Boyd and 11 others joined them at the school in 1965.
Carr was a lifelong Montgomery resident and worked for close to 40 years at WSFA-12, and longtime co-worker Mark Wilder said Carr never talked about his role in the integration of schools. Carr held a number of positions during his time there, and when he acted as director, he always had a way of quieting down the often noisy chatter over the headphones in the midst of working on a newscast. "When he would speak, he would speak so softly everyone had to shut up," said Wilder, WSFA's digital content manager.
Carr also was active in a number of civic groups, including the Laubach Literacy Council.
Boyd said Carr always believed that once schools were integrated, it would chip away at the racist ideas that the white students' parents had passed along to them. "He really believed that given the chance to interact with black kids at an early age, (white students) would realize we are all human, we are all the same," Boyd said.