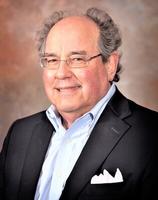 Larry Dwayne Bern (70), a life-long resident of Montgomery, Alabama, passed away Sunday, February 7, 2021. He was preceded in death by his parents, Kathleen and Saul Bern, and his father-in-law, Thomas Leon "Bull" Cochran. Larry is survived by his loving wife of more than fifty years, Claire, his three children and two sons-in-law, Lara and Jonathan Knight, Elizabeth and Jacob Dubin, and Eric Bern, and his three grandchildren, Sid Spear, Max Dubin, and Lila Claire Dubin. Larry is also survived by his siblings, Debbie and Richard Bern, Sue Ann Stinson, Marilyn and Bruce Ming, and Gail and Joe Cochran, and his mother-in-law, Marilyn Cochran.
Larry graduated from Sidney Lanier High School with Claire and together they attended and graduated from the University of Alabama. He was a Zeta Beta Tau and served as pledge class president. Larry received a degree in accounting and a masters in accountancy with honors from the Culverhouse College of Business. He was recruited by Coopers & Lybrand and quickly promoted. Larry and Claire returned to Montgomery where he practiced public accounting for more than forty-five years.
Larry was dedicated to providing service to his clients and giving back to the community. He loved his work family at Bern, Butler, Capilouto, and Massey. Larry's life was a true example of unselfish giving and volunteer work. He served on numerous boards and foundations, always to ultimately serve the role as chair or president. To name some that were dearest to his heart, Larry was a founding member of the Family Sunshine Center, president of the Brantwood Children's Home, president of the Downtown YMCA, treasurer of the Central Alabama Community Foundation, and president of Saint James School. Larry also served in the Alabama National Guard.
At the Church of the Ascension, Larry served as Lay Reader and Verger. He cooked and delivered countless meals for Meals on Wheels with best friend, the late Sam Dolman. Every Thursday morning for over a decade he cooked breakfast for the Men's Prayer Breakfast and was well-known for making the best bacon. Larry treasured his 4:00 a.m. Wynlakes workout friends. Larry loved his Goddaughter, Jennifer Henig Trott, "Baby Jenn."
Larry loved Alabama football and the game of golf. Larry's only desire was to spend time with his wife, his children and grandchildren, and his friends. Larry was a devoted husband, a beloved father, and the most wonderful "Papa."
A celebration of his life will be conducted by the Reverend Candice B. Frazer on Thursday, April 29, 2021 at 11:00 a.m. at the Church of the Ascension, in Montgomery, Alabama with a reception to follow.
Honorary Pallbearers are Jeff Blitz, Michael Butler, David Capilouto, E. Larry Capilouto, Joe Davis, Bill Garrett, Michael "Moose" Goldner, Jerry Grant, Larry Grogan, John Henig, Mike Henig, Bill Knox, Jeff Kohn, Steve Lichter, Cliff Massey, Jake Mendel, Eddie Raymon, Alan "Rocky" Rothfeder, John Shannahan, Don Vaughn, Charles Voltz, and Henry Weatherly.
Memorials may be made to the Church of the Ascension, the Family Sunshine Center, the Brantwood Children's Home, and the Montgomery Humane Society.
Published in Montgomery Advertiser from February 9th to 14th, 2021.