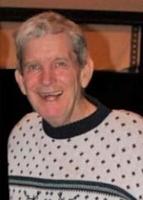 Walter Thomas Ashurst, Jr., age 71, of Montgomery, Alabama passed away on Friday, January 22, 2021. Walter was born September 11, 1949 in Alabama to Julia Ann Hawes Ashurst and Walter Thomas Ashurst Sr. Walter was preceded in death his father, Walter Thomas Ashurst Sr., his mother, Julia Ann Hawes Ashurst and his sister, Judy Ashurst Cotton.
Walter is survived by his daughter, Amy O'Brien (Jason) Frye; his grandson, Henry Frye; a sister, Vivian Ashurst Mason; his nephews Brandt (Hayden) McDonald; Jeff (Allison) Cotton; Mike (Gail) McDonald, Johnathon (Julie) Cotton; Chad Mason; nieces Joy Cotton; Julia Ann Cotton King and nephew, Walter (Mary Anne) Mason.
Mr. Ashurst was an accomplished deer and turkey hunter who hunted whenever possible. An Auburn graduate, "Bunky" enjoyed Auburn football but that delight paled in comparison to his love for Jesus Christ. He was always attending church and bringing friends. Quick with a witness, he had a favorite list of preachers and a word of encouragement for all he came in touch with. His church held a special place in his heart.
A celebration of life graveside service for Walter will be held Tuesday, February 2, 2021 at 11:00 AM at Greenwood Serenity Memorial Gardens, 909 Lincoln Rd, Montgomery, Alabama 36109.
Pallbearers will be Brandtley McDonald, Mason McDonald, Michael Ashurst, Tommy Ashurst, Wilson Cotton, Chase Parker, Caden Parker, Melison McDonald, Ellie Cotton and Miller McDonald.
Honorary Pallbearers will be Dr. John Ashurst, Bob Ashurst, Kenneth Underwood, Lewis Underwood, George Underwood, Mike Barranco, Joel Sanders and William Powell.
In lieu of flowers, contributions in Walter's memory may be made to

Dream Center Montgomery
P O Box 6177
Montgomery AL 36106

Brain & Behavior Research Foundation
747 Third Ave - 33rd Floor
New York NY 10017
https://www.bbrfoundation.org/donate
Fond memories and expressions of sympathy may be shared at www.Leak-MC.com for the Ashurst, Jr. family.
Published in Montgomery Advertiser from January 31 to February 1, 2021.