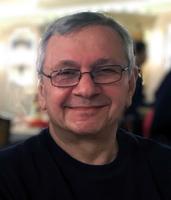 JANUARY 20, 1949 – APRIL 30, 2022
Arnold (Arnie) Samuel Fast, 73, passed away peacefully at his residence on April 30 after a lengthy and courageous battle with cancer. He graduated from Sidney Lanier High School in 1967. After the passing of his father, he and his brother co-owned Fast Auto Parts until 2000. He then went to work for Jimmy Durbin and Danny Durbin at Durbin Auto Parts.
He was preceded in death by his parents, Morris and Marion Fast. He is survived by his loving wife of 43 years, Paula Gray Fast, his daughter Heather Fast Stojak (David), and granddaughter Sadie Stojak. He is also survived by his sisters Marsha Orange (Steven), Susan Goodman (Alan), brother Harvey Fast, and extended family members and friends.
His family would like to offer their appreciation to the wonderful staff and volunteers at Montgomery Cancer Center and Central Alabama Radiation Oncology. Words will never express our gratitude to Dr. Scott McDaniel, Dr. Alex Whitley, and Dr. Dennis Woodling. We would also like to give thanks to special caregivers Donna Vickery, Kisten Gibson, Samantha Lofland, and staff with Amedisys Hospice Care.
Pallbearers will include Frank Simersky, David Neal, Danny Durbin, Cliff Hornady, Jeff Dawkins, and Rod Benton with honorary pallbearers consisting of Jake Aronov, Owen Aronov, Alan Goodman, Steven Orange, Butch Gray, Dr. Buddy Gray, John Stephenson, Bob Norwood, Glen Ozee and Henry McCown.
A graveside service for Arnie will be held Tuesday, May 3, 2022, at 1:00 PM at Greenwood Serenity Memorial Gardens, 909 Lincoln Rd, Montgomery, Alabama 36109.
In lieu of flowers, contributions in Arnie's memory may be made to:

Montgomery Cancer Center
4145 Carmichael Rd
Montgomery AL 36106

Agudath Israel Etz Ahayem Synagogue
3525 Cloverdale Rd
Montgomery AL 36111
www.aieamontgomery.org.