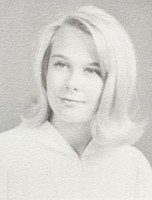 Nancilu (Lou) Dennis McClurkin, 66, a resident of Montgomery, AL passed away on Tuesday, May 19, 2015 after a bravely fought battle with cancer.
A celebration of her life will be held at Sinclairs in Cloverdale from 4:00 to 6:00 p.m. on Sunday, May 24, 2015.
Mrs. McClurkin attended school at Sidney Lanier High School, Mississippi Gulfport Community College, and Auburn University. She was an exceptionally wonderful mother, wife, sister, and friend to all that knew her. She loved to volunteer at the Family Sunshine Center, take care of her dogs and stray puppies, and Alabama Football.
She was preceded in death by both of her parents, Edward Hundley Dennis and Anne Dawson Dennis.
She is survived by her husband, Joseph McClurkin; her son, Brad Carpenter; Granddaughter Anne; Sister, Kathy Robinson; Brother, Eddie Dennis; four nieces and nephews and several cousins.
In lieu of flowers, the family asks that donations be sent in Lou's name to the Family Sunshine Center, Baptist Hospice, or the American Cancer Society .
Published in the Montgomery Advertiser on May 23, 2015.