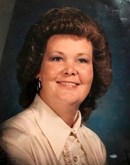 Beverly Wilson Dawkins (Nana/Nanny), 70, passed away on May 6, 2018, after an extended illness. She was preceded in death by her mother and father, Francis S. Wilson and James A. Wilson.
Bev is survived by her husband of 50 years, Don Dawkins (Poppy); three children, Chris Dawkins (Angel), Jimmy Dawkins (Kristy), Donna Grier (Chris); granddaughters Chelsea Lee Dawkins, and Cameron Lacey Dawkins, and a very special friend Marie Fitzgerald.
Visitation will be held on Thursday, May 10, 2018, at 2:00 p.m. at Leak Memory Chapel with a Celebration of Life at 3:00 p.m. Pastor Art Long will officiate. Interment will follow at Greenwood Cemetery.
Pallbearers will be David Worley, Mark Worley, Jake Pyron, Johnny Postma, Wayne Roy and Ryan Ramshur.
Honorary pallbearers will be Ron Sterling, Dr. Tom Cauthen, Dr. Mont Highley, Albert Sharpe, Dr. Harold Cox, Steve Wilson, Tyrone DeJarnett, Antwon Reuben, Steve Sellers, Jim Knutson, Tommy Ratliff, and Jack Jackson.
Published in the Montgomery Advertiser on May 9, 2018.