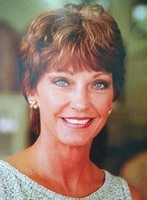 Kaye Moore was born on May 14, 1947 in Montgomery, Alabama, where she resided until moving to Dallas Texas in 1973. Kaye attended Lanier High School in Montgomery and graduated in 1965.
Kaye was preceded in death by her mother, Mary Morgan; her "second mother" aunt, Mable Davis; sister, Sylvia (E.C.) Smith and her "brother" Steve (Christine) Davis.
On February 26, 2009, Kaye lost her only child, Dana Moore, to an untimely death from cancer. A deeply devoted mother, Kaye treasured the memory of her daughter and her greatest joy was sharing memories of her beloved daughter with family and friends.
A talented decorator, Kaye owned and operated Kaye's Victorian Gallery, a home furnishings and decorating shop in Duncanville, TX for many years where she provided decorative services for local and national clients.
Kaye is survived by her twin sister, Faye Perry, of Kailua, Hawaii; her sister, Barbara (Lee) Bullock, of Columbiana, Alabama; her brother, Morgan (Sally) Hamm, of Milton, Florida; her brother, Vaughn (Jennifer) Morgan of Montgomery, Alabama, as well as nieces and nephews in Hawaii, Virginia, Colorado, Alabama, Florida and Georgia, all of whom loved her and will greatly miss her.
Kaye was a long-time resident of Duncanville, Texas where she leaves many friends as well as Sydney, her Australian Sheepdog.
Date and location for memorial service to be determined. Memorial gifts may be made to the American Cancer Society.
Published in the Montgomery Advertiser on Aug. 31, 2014.