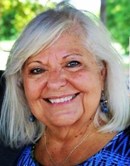 Mary Frances "Frankie" Law Martin, 70, a lifelong resident of Montgomery, AL died suddenly on March 2, 2018, as a result of an automobile accident. Frankie was the daughter of the late Cecil Rupert and Lucille Ledbetter Law. She attended Lanier High School as a member of the Class of 1966 and was actively employed by Lane Corporate Group where she was a personal assistant to Mr. Jim Lane for over 40 years.
Frankie was a loving and devoted mother to Jeff (Kay) Martin, Jody (Kim) Martin, and Laurie (Garrette) Woodham, born from the marriage to their father Timothy G. Martin and they never stopped being a family. Grandchildren are Bradley Martin, Haleigh (Jay) Collier, Sarah Catherine Woodham, Matthew Woodham and Rebecca Woodham. Three great-grandchildren include Michael Perry, Lawson Perry, and J. B. Collier.
In addition to her parents, Frankie has reunited in heaven with her sister, Linda Marie Law York. She leaves to cherish her memory sisters Barbara Ann "Bobbie" Easterling, Dorothy Davis, Shelley Duncan, Millie Law, Judy (John) Mosley, and one brother Randy (Sharon) Law. She has a multitude of nieces and nephews and great nieces and great nephews, and every one of them had their own exceptional relationship with Aunt Frankie. She was also blessed to continue to be an integral part of the Martin family whom she loved and cared for just as she did her own.
Frankie also leaves a very special cousin, Liz Royal, a devoted lifelong friend Carol Baker Sposato, and a beloved companion of many years, Jim Gallaspy.
Frankie was a cherished member of Grace Point Community Church, Wetumpka, Alabama and will leave a major void in all facets of the church ministry. Family and friends were blessed to share Frankie's beautiful home, fresh flowers always on display, her mouthwatering home cooking, and frequent special celebrations with delightful homemade desserts. She was the first to welcome a new baby or grieve the loss of family or friend with tokens of love appropriate for the occasion.
Santa Claus was in awe of the beauty and wonder of the Christmas love on display at Frankie's home when he visited each year. It was very obvious that she knew the "reason for the season".
Funeral services will be held at Grace Point Community Church on March 10, 2018, at 2:00 p.m. The family will receive friends one hour prior to her services at the church. Lavender was her favorite color so, in honor of her, the family asks you to wear something lavender to her service.
Flowers are appreciated or memorials may be made to:

Grace Point Community Church Women's Ministry
in memory of Mrs Mary Frances Law Martin.
Pallbearers will be Brad Martin, Matthew Woodham, Tim Easterling, Joey Kennedy, Donnie Summerlin, Rusty York, Keith Dandridge and Jonathan Law.
Honorary pallbearers will be Jim Lane and staff of Lane Corporate Group, Mark Narmour, and members of the Women's Ministry and members of the Paul Thornton Sunday school Class of Grace Point Community Church.
Thank you, Frankie, for blessing our lives so richly. We would never have been ready to give you up, and perhaps that's why God took you so quickly.
Brookside Funeral Home of Millbrook, Alabama directing.
Published in the Montgomery Advertiser on Mar. 8, 2018