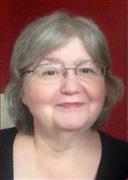 Janis Vivian Jordan Smith died peacefully in Montgomery, Alabama on August 21, 2016 at the age of 68. She was born on September 3, 1947, the eighth of twelve children born to Ross and Vyvyan Jordan.
She is survived by six children, Denise (Reggie), Ben, Chris (Kay), Gary, Cheryl (Scott), and Daniel (Kelley); nine grandchildren, two great grandchildren, six brothers, three sisters, and dozens of beloved nieces and nephews. She was preceded in death by her former husband, Gary; her parents; two sisters, Wynette and Phala; and one daughter, Dianne.
Janis was a lifelong member of The Church of Jesus Christ of Latter-day Saints where she served in numerous capacities over the years. Without a doubt, though, her favorite calling was teaching children, especially those in the nursery. Janis understood better than most the Savior's admonition to "suffer little children to come unto [Him]".
Her love for the Savior knew no bounds. She was fierce in her faith, gentle in tone, and generous of heart. She loved and gave until the end and no one would ever dispute that this good woman wore out her life in service to others.
Janis' children would like to humbly thank those who visited and cared for her, especially over the last year. You were a blessing to her and to us and our hearts are filled with gratitude.
Visitation will be on Wednesday, August 24th at Brookside Funeral Home in Millbrook, Alabama, beginning at 5:00pm for family and 6:00-8:00pm for everyone. Her funeral will be held Thursday, August 25th at 10:00am at The Church of Jesus Christ of Latter-day Saints in Prattville, Alabama, preceded by a viewing from 9:00-9:45am, also at the church. A brief graveside service will be held at Caleebee Cemetery in Shorter, Alabama directly after the church service.
Mom, the world is a little dimmer today without you here. It was our privilege and our blessing to be raised and taught by you. We love you more than we can ever express. We will miss you every single day until we meet again.
FAMILIES ARE FOREVER!
Published in the Montgomery Advertiser on Aug. 24, 2016.