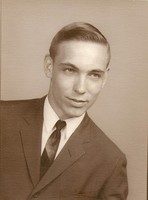 James Howard Farmer, 68, of Montgomery, Alabama passed away, Sunday, December 20, 2015, at his home.
James is survived by his wife of 48 years, Denise M. Farmer; Daughters; Shannon Sears (Brent), Heather Saliba (Frank), Rebecca Thaggard (Felix); Grandchildren; Steadman Sears, Caitlin Sears, Isabelle Saliba, James Franklin Saliba and Parker Thaggard; Sisters: Betty Brown (Melvin), Priscilla Sutton, and Juanita Madison, along with nieces and nephews.
A celebration of Life Mass will be held at Holy Spirit Catholic Church, 8570 Vaughn Road, Montgomery, Alabama, 36117, Monday, December 28, 2015, with Mass 11:30 am. Visitation one hour prior to Mass.
Donations may be made to:
Amedisys Hospice of Montgomery
8160 Decker Lane
Montgomery AL 36117
ALS Association
PO Box 2888
Huntsville AL 35804-2888