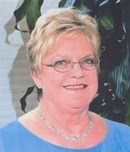 Marie Brotherton Killough, 71, of Prattville, Alabama, passed away on March 16, 2018, at her home in Prattville. The funeral service will be held at 11:00 AM on March 22, 2018, at the Prattville Church of Christ. Reverend Brent Missildine will be officiating. Funeral arrangements are being handled by Ridout's-Brown-Service Chapel of Prattville.
Marie was born in Montgomery, Alabama on January 30, 1947. She graduated with a Bachelor's Degree in French from the Mississippi State College for Women in 1968 and married Richard Sidney Killough of Greenville, Alabama that same year. Marie worked as a teacher in Greenville high school for several years in her early married life and welcomed first daughter Barrett Suzanne into the world in 1971, followed by her second daughter Rebecca Rogers in 1972. She lived in South Florida for much of her adult life, later obtaining a Paralegal certification and serving as a manager in the child welfare division for the State Attorney of Florida. Marie enjoyed reading, cooking, being on the water, and spending time with her family, especially with her two grandchildren.
Marie is survived by daughter Barret Killough Scala, daughter Rebecca Killough Bollenbach, her husband Wayne Bollenbach and her two grandchildren Morgan and Rhodes, along with the rest of her family and friends.
Marie is preceded in death by her parents, Anne McCaleb Brotherton and Willian DeWitt Brotherton, as well as her sister, Suzanne Brotherton.
In lieu of flowers, memorial donations may be given to:

Prattville Church of Christ
Butler County Humane Society.
Published in the Montgomery Advertiser on March 22, 2018