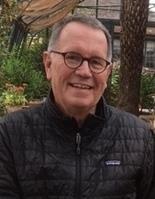 Joseph Gilbert Pierce (1946-2021)
Joe Pierce loved life and embraced each new day with great excitement and enthusiasm. He loved and cared about people more than anything else (and had a psychological test to prove it). He approached everyone he met with openness, warmth, and generosity that put people immediately at ease and made them feel special. He believed that a smile, a hug, and a cheery word of encouragement could put almost anything right. He was constantly thinking of others, sending those he loved thoughtful little notes and well-chosen gifts.
He loved animals, too, especially dogs, of which he rescued many, including, among others, Josh, Mose, Sam, Sadie, Ludie, Woodboy, and Lucy Lee. He could not bear to see any animal suffer and was known to have rescued fainted chipmunks from the jaws of snakes and cats.
A small shy boy with a stammer, Joe was intellectually curious from an early age. He devoured books, especially encyclopedias, wherever he could find them, mostly in the many public libraries he frequented as a child. Joe loved cooking and entertaining and, while living in Tuscaloosa, Alabama, was renowned for his Wednesday night dinners for single friends, as well as large "plane-wreck" cocktail parties, often hosted for writers visiting the University of Alabama.
A long-time and avid bread maker, he was thrilled to have his recipe, "Joe's French Bread," published in Lianna Krissoff's Canning for a New Generation. Among members of the Mitchell-Ashbee-Fisher family, Joe was famous for cooking up Southern pocket-book rolls and perfect pizzas, which were often accompanied by impromptu dinner speeches and the telling of long, impenetrable jokes (who was that piccolo player?).
Joe loved art and design and had a good eye for antiques, paintings, ceramics, and sculpture. He delighted particularly in small objects, intricate structures, and tiny little houses. He befriended many writers and artists throughout his life, writing a few poems of his own along the way.
Joe loved running, the discipline of many forms of martial arts, isometrics, and personal fitness in general. As a teenager, he discovered a small pamphlet published by Bruce Lee, which led to his life-long practice of Wing Chun and Jeet Kune Do.
Joe was born in Cartersville, Georgia on February 5, 1946, to Marguerite Jenkins and John Walton Pierce. Joe was a middle child with elder and younger brothers, John and Roy. He enjoyed the company of a large, extended family, and had particularly fond memories of his many uncles, four of whom fought in the Battle of the Bulge. He was especially close to C. Edward Pierce, long-time managing editor of the Sarasota Herald-Tribune, as well as his cousin, Becky Cole.
Joe's family moved many times during his childhood, stopping in at half a dozen towns across Georgia, and finally settling in Montgomery, Alabama. Joe attended Montgomery's Sidney Lanier High School, from which he graduated with a straight-A average. In 1964, after receiving an alumni scholarship, he headed to Baton Rouge to attend Louisiana State University. There he met his roommate and life-long friend, Richard DeYoung. Joe and Richard both entered LSU's Honors Program, benefitting from small seminar-style classes taught by a constellation of gifted professors and frequented by visiting scholars, writers, and artists. Joe majored in history, but also studied philosophy, Attic Greek, and creative writing. He loved words and was particularly influenced by his poetry professor, Miller Williams, and often quoted from Miller's poem Compassion. Later in life, Joe wrote to Miller to let him know that he was still using words, but "different words, to persuade juries and judges to do what you hope is the right thing."
Joe served in the U.S. Army from 1969 to 1971. He arrived in Vietnam in December 1970 for a one-year tour, joining the 554th Engineer Battalion located by the town of Bao Loc in South Vietnam's central highlands. There he earned the nickname "Lieutenant America" from his good friend and fellow platoon leader, Lieutenant Ed Jalil. In 1971 he received the Army Commendation Medal for "fine service," as well as the Vietnam Service and Vietnam Campaign medals.
After spending a few years working for a Community Action Agency in Augusta, Georgia, and trying his hand at selling advertising for the Southeast Alaska Empire newspaper in Juneau, Alaska, Joe returned home to earn a law degree at the University of Alabama. Upon graduation, he joined the firm of Drake and Knowles (later Drake, Knowles, and Pierce), beginning a successful 35-year career as a criminal defense lawyer and civil rights attorney. He litigated cases at both the trial and appellate level in state and federal courts, working on complex constitutional litigation that established important precedents for protecting the rights of prisoners, juvenile offenders, and the mentally ill.
Joe loved mentoring and hired many law clerks for his firm, including many African American and LGBTQ students, whose employment opportunities in Alabama were limited at that time. Joe's own mentor, Tuscaloosa attorney William J. Donald, had this to say about his friend: "As an attorney, Joe demonstrated excellence in his area of practice. He was a dedicated advocate for justice and the rights of the disadvantaged. He was not afraid to stand up to the rich and powerful when they crossed the line. Most of all, Joe was a true southern gentleman, a decent and caring person, whose word was his bond, and who was as good a friend as anyone could have. If Joe was your friend, you could count on him anytime, anywhere, no matter the distance."
After moving to Seattle in 2012, Joe began volunteering for the University of Washington's Innocence Project Northwest. Working with a small, dedicated team of lawyers and students, Joe devoted hundreds of hours to reviewing cases, ultimately serving as president of the IPNW's Board of Directors. He was a strong community advocate, never missing an opportunity to educate others about the vital work on behalf of the wrongfully accused. Joe was the first recipient of the IPNW's Pro Bono Award, presented at the organization's 15th-anniversary celebration.
Joe passed away peacefully and comfortably at his Seattle home on January 4, 2021, after a long battle with cancer. He is survived by his partner, Nicole Mitchell, members of the Pierce family, and a multitude of friends and colleagues. Gifts in Joe's memory may be made to the Salvation Army, Doctors Without Borders, and Seattle's KUOW.
Published in Tuscaloosa News from February 15th to 21st, 2021