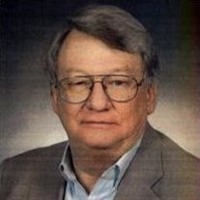 Mr. Homer Elton McGough Jr., age 69 of Elkton, Kentucky, passed away at 5:00 a.m. Friday, December 11, 2015 at Logan Memorial Hospital ER in Russellville, Kentucky, of natural causes. Mr. Elton was born December 26, 1945 in Montgomery, Alabama, the son of Homer Elton McGough Sr. and the late Margaret Estella Ball McGough.
Mr. Elton was retired from Koppers Incorporated after 33 years of service. He served at plants in North Little Rock, Arkansas; Denver, Colorado; Florence, South Carolina; Newark, New Jersey; Montgomery, Alabama; and Guthrie, Kentucky. He was a veteran of the U.S. Navy having served in Norfolk, Virginia on the USS Raleigh.
Mr. Elton was a very active member of the Petrie United Methodist Church, and served as past president of the Elkton Rotary Club where he held Paul Harris Fellowship. He was also a member of the Todd County Park Board, the Board of Directors of Jennie Stuart Medical Center, a Past President and a member of the Alabama Wood Preservers Association and a member of the American Wood Preservers Association. Mr. Elton was also a Kentucky Colonel.
Survivors include his father, Homer Elton McGough Sr. of Birmingham, Alabama; his wife of 48 years, Sue Kelley McGough of Elkton; his son, Adam Elton (Anne) McGough of Center Line, Michigan; his daughters, Kelley Lynn McGough of Bowling Green, Kentucky and Marianne (Adam) Schondelmayer of Campbell, California; his brother, Nelson Albert (Linda) McGough Sr. of Birmingham, Alabama; five grandchildren, William and Elayne Kaufman, Ian and Rhys Schondelmayer and Edward Elton McGough.
Services for Mr. Elton will be 11:00 a.m. Tuesday, December 15, 2015 at Petrie Memorial United Methodist Church in Elkton with Dr. Ted Beam officiating. Burial will follow in the Glenwood Cemetery. Visitation will be from 4:00 to 8:00 p.m. Monday at Latham Funeral Home and after 10:00 a.m. Tuesday at the church until time for the funeral.
In lieu of flowers the family asks that donations be given to the:
Petrie Memorial Methodist
Church Building Fund
P.O. Box 160
Elkton KY 42220