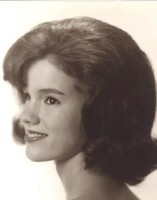 Candace Brannon Ozerden was born in Montgomery, Alabama, to doctors William and Mary Jane Brannon, as the 4th of six children. She was the granddaughter of William and Louisa Brannon and Emily Bell Crump, all from Montgomery. Her grandparents and parents are all now deceased.
She attended Huntington College in Montgomery and the University of Southern Mississippi, Hattiesburg, where she earned her undergraduate degree in sociology. She later completed her master's degree at USM in counseling.
She was happily married to Dr. Halil Ozerden, originally from Turkey, for 42 years, and they were the proud parents of 2 children, Sul Ozerden (Shannon) and Emile Lee (Ben). She and her husband enjoyed traveling immensely. They were able to explore a large portion of the world in their various travels, which included trips to 6 continents. They were able to include their children in many of these adventurous trips, seeing this as an important educational experience for their children. They also enjoyed traveling with friends. Candace continued to travel with friends after her husband's death.
In addition to her children, she is also survived by her grandchildren Austin and Ava Gottschlich, Vivian, Harty, Miriam, Avis and Isla Ozerden. She is also survived by two sisters, Donna Coon (Tom), Cordelia Green (Johnny) and two brothers, William T. Brannon (Charlie) and Charles Eric Brannon, 7 nieces and numerous grand-nieces, grand-nephews and cousins. Avis Gunter (Will), her youngest sister, predeceased her.
Candace worked for the Gulfport School District as a counselor and later as Director of Student Services. In this role, she expanded the counseling program to provide elementary counselors to the Gulfport schools and worked with Memorial Hospital of Gulfport to add the first health Clinic at Gulfport High School, including adding nurses at all schools, as well as working with the police department to implement the DARE program in the Gulfport schools. She was also able to implement several innovative programs, including the first mentoring program in Mississippi. Throughout her professional career, she continued to attend classes at USM adding to her academic credentials.
Candace was an active and devout member of St. Peters by-the-Sea Episcopal Church, where she served on the Vestry several times, worked with the Sunday school and youth programs as well as the Episcopal Church Women. Her life was good! She also enjoyed activities with friends including Bible study and Bridge. She was blessed to enjoy these activities with very close friends. She also enjoyed these activities at the Gulfport Yacht Club and at her home and built a special relationship with her Bible study group. She was active in the Gulfport Yacht Club Ladies Auxiliary having served as president and in other offices. She enjoyed assisting handicapped and disadvantaged Youth through her active membership in the Civic League of Gulfport in which she had many close friends.
She believed in celebrating life's special moments. Her greatest joy was time spent with her dear children and their families. Watching her grandchildren grow up was a special blessing. She also had the benefit of a large family and a wide circle of friends. Her family and friends were ever present in her life keeping her active. The family wishes to thank her wonderful physicians and caregivers who also made it possible for her to remain active.
Visitation will be in the sanctuary at St. Peter's by-the-Sea Episcopal Church, 1909 15th Street, Gulfport, MS from 9:00 AM until 10:00 AM, Friday, February 16, 2018. The funeral service will begin at 10:00 AM. Following the service, a reception will be held in the Parish Hall. A brief graveside service will follow at Floral Hills Cemetery, with a procession leaving the church at Noon.
In lieu of flowers the family prefers memorials be made to:

St. Peter's by-the-Sea Episcopal Church
1909 15th St
Gulfport MS 39501
Published in the Montgomery Advertiser on February 15, 2018.