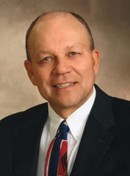 On June 7, 2017, at the age of 72, Joseph L. Reese, Sr departed this life, joining in Heaven his Lord and Savior, Jesus Christ, and reuniting with his beloved wife, Ann, who preceded him in death just 15 months earlier.
Joe was a native of Montgomery, having graduated Lanier High School in 1963. Four years later he received his bachelor's degree from the University of Alabama. Upon graduating UA, he joined IBM -- a company with which he worked for 25 years. In 1978 Joe returned to Montgomery when he was transferred to IBM's Montgomery office. There, he worked in sales, marketing, and managerial positions until he started his "second career" at ALFA, a company from which he later retired as Vice President of Information Technology.
Joe had many interests: playing a round of golf, reading a good book, and taking in an Alabama football game were among his favorites. He was an eternally curious individual who relentlessly pursued knowledge -- whether about a new subject which happened to pique his interest or simply trying to figure out how something works. He possessed great practical knowledge. And as a voracious reader, he knew at least something about almost everything. This made him the type of person who could strike up a meaningful conversation with just about anyone he encountered.
While Joe had many interests, undoubtedly his passion was his family. To hear someone claim to be the "family first" type is somewhat common these days, but to find someone who actually lives out that viewpoint is quite rare. Joe was that rare individual whose life bears testimony to a family first perspective. Nothing was ever more important to him than spending quality time with family -- because he considered spending time with family as the very definition of living a meaningful life.
The family he leaves behind is eternally grateful for the wisdom, guidance, love, and affirmation he showered upon them during his life. He was a committed and devoted father to his two children, Suzanne Hunter (Jeff) and Joseph, Jr. (Amy), a loving and dedicated husband to his wife, Ann, and a proud grandfather to five grandchildren: Maddy Grace, Reese, and Gavin (Hunter) and Joseph III and Davis (Reese). As further evidence of his commitment to family, during the vast majority of his adult life, Joe shared his home with his mother, following the death of his father, and with his mother-in-law, following the death of his father-in-law.
The family and many friends Joe leaves behind will miss him dearly. While their lives will certainly feel emptier for a while without his continued presence, the truth is their lives have been made fuller and richer than they ever would have been had they not had the good fortune of crossing his path.
Funeral services will be held on Saturday, June 10 at St. James United Methodist Church at 1:00 p.m. Visitation will be held at noon.
Pallbearers will be Joseph Reese, Jr., Joseph Reese III, Jeff Hunter, Waldo Reese, Danny Reese, and David Montiel.
Honorary pallbearers will be Paul Robinson, Robert Busby, Davis Reese, and Gavin Hunter.
Published in the Montgomery Advertiser from June 9 to June 10, 2017